Could less gassy livestock be a cash cow?
The hamburgers and cheese that come from US cattle may be favorite fare at many summer cookouts, but the methane the same cows produce is significantly less appetizing.
That is especially the case for sustainable investors looking for a low-emission place to park their cash. "Enteric fermentation," or livestock's digestive process, accounts for 22 percent of all US methane emissions, and the manure they produce makes up 8 percent more, according to the US Environmental Protection Agency (EPA).
And although agriculture is a growing industry as the world looks to feed its swelling population, some investors are reluctant to support a sector with such a hefty methane footprint.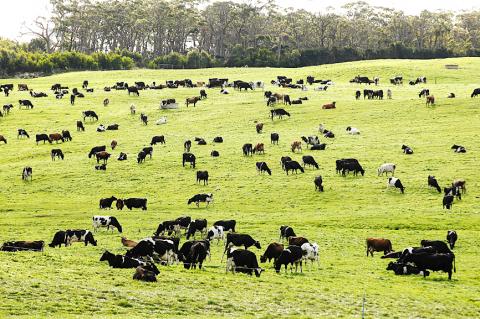 Cows graze in a pasture at a dairy farm operated by Van Diemen's Land Co in Woolnorth, Tasmania, Australia, on May 30.
Photo: Bloomberg
"There are a lot of factors or buckets that go into agricultural emissions, but livestock tends to be one of the largest focuses," said David Nicola, portfolio manager of the Gratitude Railroad Farmland Fund, which launched this week and is targeting US$40 million in capital commitments focused on regenerative agriculture.
It is also an issue for Michael Landymore, a senior portfolio manager at Impax Asset Management responsible for the firm's food and agriculture strategy.
"We tend not to invest in companies that are solely focused on growing livestock," he said in an interview on Wednesday.
EMISSIONS ISSURES
Methane, like carbon, is a greenhouse gas, but methane's global warming impact per molecule is 25 times greater than carbon's, according to the EPA.
In June, scientists from the Consultative Group for International Agricultural Research found that the agricultural sector must reduce non-carbon dioxide emissions by 1 gigatonne per year by 2030 if it is going to help meet the 2°C limit on increases in global temperature required by last year's UN climate agreement in Paris. Almost 130 countries that arrived in the French capital last year to agree on emissions reductions included agriculture in climate change mitigation targets, according to the group.
However, while many agree lower emissions are an important goal for the livestock industry, just how they get there is still up for debate. It does not help that there is not even a uniform way to measure cow-produced emissions.
For meat producers, "monitoring greenhouse gas emissions from cattle is challenging as there are more than 700,000 cow-calf stocker ranches in the US" beef supply chain, Cargill Inc spokesman Michael Martin said in an e-mail.
Isolating the impact of direct livestock emissions versus indirect emissions such as fertilizer, crop production and transport for animal feed is also a challenge, companies and investors say.
"The issue for agriculture is identifying the actors and creating levers for change," Cynthia Simon, senior manager of investor initiatives at CDP, a not-for-profit focused on corporate carbon and water measurement, said in an e-mail.
Some big producers are banding together to try to tackle the issue. The US Roundtable for Sustainable Beef, which includes companies such as McDonald's Corp, Wal-Mart Stores Inc, Tyson Foods Inc, JBS USA Holdings Inc and Cargill, last year launched with the aim of finding better ways to measure the environmental impact of cattle.
Greenhouse gas emissions is one of its six "high priority" indicators for sustainability, but "it is a challenge to align the entire value chain," to get emissions measurements, roundtable chair John Butler said in an interview.
Some companies are also taking matters into their own hands, getting creative when it comes to cutting emissions from their herds.
Cargill, for example, uses domed lagoons to capture some of the methane released from biodegrading cow manure.
Yogurt maker Danone found through its research that adding Omega-3 fatty acids to a cow's diet — largely through infused flax seed — can reduce methane emissions from cows by up to 30 percent. However, further research found that while the flax additive reduced methane, it also reduced milk production, pushing Danone to focus on other ways to cut farm emissions.
"We're really actively engaged in supporting research in this area," said Britt Lundgren, director of organic and sustainable agriculture at Danone-owned Stonyfield Farm Inc. "Our understanding of this I think is still just at the tip of the iceberg and we've got a lot to learn before we feel like we have all the answers on how to reduce emissions from our farms."
COW BACKPACKS
In Argentina, home to more than 50 million cows, researchers from the Argentina National Institute of Agricultural Technology are attempting to use "methane backpacks," plastic contraptions attached to cows, to capture methane from a cow's digestive tract.
The technology is in its early stages, but so far the backpacks have been able to extract 300 liters of methane a day, enough to power a car or refrigerator, the institute said.
Creating tools that will help farms identify opportunities to reduce emissions, while maintaining or improving profitability is "the holy grail," Lundgren said.
Impax, whose food and agriculture strategy has about US$178 million in assets under management globally according to its Web site, is investing in companies that breed livestock that produce less methane, develop emissions-reducing feeds and provide consumer alternatives to dairy, Landymore said.
However, it is going to be consumers, not investors, whose involvement results in real change, Nicola said.
"Where the pressure to measure these emissions more thoroughly will come from are consumers. It's not likely to come directly from investors," he said. "The opportunities that are created in sustainable agriculture nowadays, it's generally based on the consumer waking up and realizing that they would like to have a higher quality product."
Comments will be moderated. Keep comments relevant to the article. Remarks containing abusive and obscene language, personal attacks of any kind or promotion will be removed and the user banned. Final decision will be at the discretion of the Taipei Times.