HTC chairwoman says she is sorry about poor results
HTC Corp (宏達電) chairwoman and chief executive officer Cher Wang (王雪紅) yesterday apologized to shareholders for the company's disappointing performance in the past year, but avoided answering shareholders' questions on when HTC would swing back to profit.
"I understand that an apology would not solve the issues, but I hope the shareholders have faith in HTC, as we have built a solid foundation for success through our efforts in VR [virtual reality] business in the past year," Wang said at the company's annual general meeting in Taoyuan.
The smartphone company reported a net loss of NT$15.53 billion (US$477.85 million), or NT$18.79 per share, for last year, compared with a net income of NT$2.35 billion, or NT$1.8 per share, in the previous year.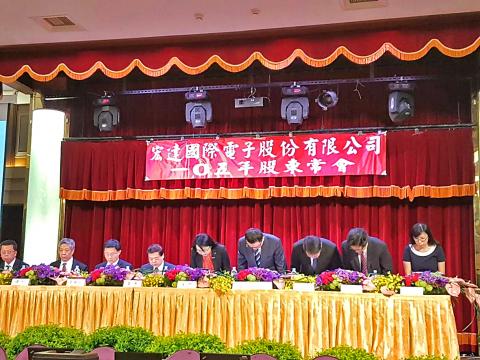 HTC chairwoman and chief executive officer Cher Wang, fifth right, and her management team bow to apologize for the company's bad performance at a shareholders' meeting in Taoyuan yesterday.
Photo: CNA
Wang said it is not difficult to make HTC's VR business profitable, but the company has to seek strategic partners and invest more in contents and platforms in a bid to build a VR ecosystem and secure a leading position in the emerging market.
She said the company in April launched a US$100 million accelerator program for VR start-ups in Taipei, Beijing and San Francisco.
HTC plans to expand the program to speed up the technology's development and increase contents for its VR headset Vive, she added.
Given that the VR business would play the most important role in HTC's growth in the next 10 years, the company has established a wholly owned VR subsidiary, Wang said.
Chang Chia-lin (張嘉臨), head of HTC's global sales division, said HTC might allow future strategic partners to invest "a small amount" of stakes in the subsidiary, but ensured that it would have no affect on the interests of HTC shareholders in the VR subsidiary, as HTC is to remain the largest shareholder.
Chang said the company has developed several new business models in the VR ecosystem for long-term growth, but he declined to elaborate on the details of the business models due to increasing international competition.
In response to shareholders' concerns regarding HTC's troubled smartphone business, Chang said the sales performance of this year's flagship model M10 is much better than the last year's M9.
Chang said sales of M9 last year were much lower than the company's expectations, causing problems and dragging HTC's overall performance from the second quarter of last year to the first quarter of this year.
Through several quarters of efforts, HTC has lowered 40 percent of its operational costs in the second quarter of this year, compared with the same period last year, he said.
With improvement in user experience and inventory management, M10 has generated profits at retail channels since it was launched at the beginning of this quarter, Chang said.
The robust demand for M10 has also helped drive up demand for HTC's other smartphones by about 20 percent, he added.
HTC shares dropped 1.73 percent to close at NT$90.8 in Taipei trading yesterday.
Comments will be moderated. Keep comments relevant to the article. Remarks containing abusive and obscene language, personal attacks of any kind or promotion will be removed and the user banned. Final decision will be at the discretion of the Taipei Times.