Asustek introduces Zenbo, its smart home manager
Asustek Computer Inc (華碩) yesterday introduced its first voice-controlled home robot as a "smart home manager," officially tapping into the robotic sector.
"Our ambition is to enable robotic computing for every household," Asustek chairman Jonney Shih (施崇棠) told a news conference in Taipei.
Zenbo, which is described as a "less-cute, real-world version of Star Wars' BB-8 droid" by tech news site the Verge, can function as a kitchen assistant, security guard, companion for seniors or children, and a photographer.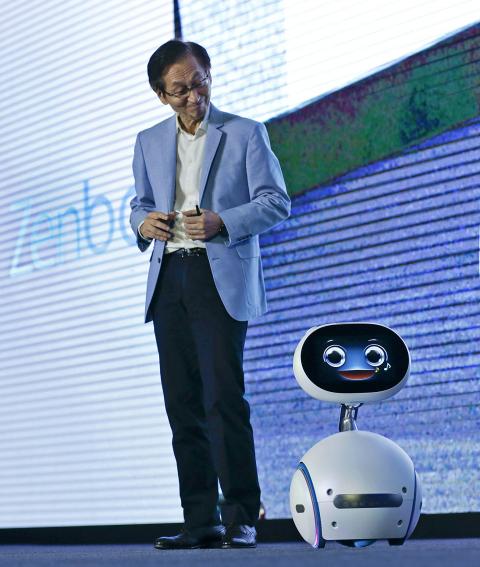 Asustek Computer Inc chairman Jonney Shih introduces Zenbo, the "smart little companion," during a news conference yesterday ahead of the Computex trade show in Taipei.
Photo: EPA
Shih called on global hardware and software developers to join Asustek's "developers' program" to help create applications and content for Zenbo.
"Together we can make Zenbo the best and most practical robot for every household. Together we can work on the next chapter of proactive computing," Shih said.
Compared with SoftBank Corp's service humanoid robot Pepper, which is priced at ¥198,000 (US$1,782), Asustek's home robot is "shorter" and cheaper at US$599.
No release date has been announced.
Asustek chief executive officer Jerry Shen (沈振來) told reporters on the sidelines of the event that Zenbo might not hit the market before the end of the year, as there is "still work to do and some adjustments to make."
No other information regarding the specifications or manufacturing details of Zenbo were revealed, as Shih declined to take questions from reporters after the news event.
In addition to the introduction of Zenbo, Asustek launched three new models of its third-generation ZenFoen — the ZenFone 3, ZenFone 3 Deluxe and Zenfone 3 Ultra.
The three new models are mainly powered by Qualcomm Inc's processor, as Asustek has gradually increased adoption of chips by Qualcomm, instead of Intel's.
The change follows Intel's withdrawal of its subsidy plan in the first half of last year.
The 5.5-inch ZenFone 3 starts from US$249, a similar price range to the ZenFone 2.
The higher-end 5.7-inch ZenFone 3 Deluxe and 6.8-inch ZenFone 3 Ultra are priced from US$479, a move that indicates Asustek's attempt to increase the average sale price of its ZenFone.
Shen this month told investors that the company expects its smartphone shipment momentum to pick up significantly in the second half of this year, after the launch of the ZenFone 3 series.
Asustek aims to ship a total of 25 million smartphones this year, up 25 percent from last year's 20 million, the company said.
Comments will be moderated. Keep comments relevant to the article. Remarks containing abusive and obscene language, personal attacks of any kind or promotion will be removed and the user banned. Final decision will be at the discretion of the Taipei Times.