China to merge state-run companies
MAKING WAVES: The economic slowdown is within expectations, but the panic caused by it was more frightful than the downturn itself, a Chinese official said
China is to combine more of its biggest state-owned enterprises as part of a sweeping plan to cut overcapacity in the US$18 trillion sector but would not see the widespread layoffs that accompanied a similar overhaul in the 1990s, a senior regulator said.
Reform of China's state-owned enterprises must balance many interests, especially those of employees, China's State-Owned Assets Supervision and Administration Commission Chairman Xiao Yaqing (肖亞慶) told a briefing in Beijing on Saturday.
Big state-owned enterprises will be made stronger while duplication will be eliminated, he said.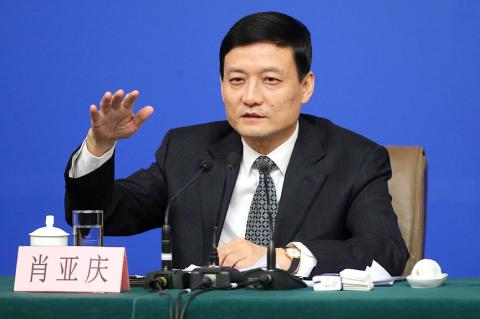 State-Owned Assets Supervision and Administration Commission Chairman Xiao Yaqing gestures during a news conference at the fourth session of the 12th National People's Congress in Beijing on Saturday.
Photo: EPA
"We are in the business of growing bigger and better," Xiao said at the briefing, held on the sidelines of China's annual legislative session.
He said that reform is split into two tracks: Cut overcapacity in some industries while capturing growth in others like aerospace, nuclear power, high speed rail, smart grid technology and renewable energy.
Xiao's remarks come as economic growth slows in China and state-owned companies have become plagued by overcapacity and inefficiency.
Last year, the number of enterprises administered by Xiao's regulator dropped from 112 to 106, with high-profile mergers by China Ocean Shipping Group (中遠集團) and China Shipping Group (中海集團), as well as two trainmakers.
Xiao said the consolidation that occurred last year was going "not too bad," and more can be expected this year.
Xiao said China will not see the sort of layoffs recorded in the last major round of state-owned enterprises reform in the 1990s, when about 60,000 firms were closed and 40 million workers lost their jobs.
This time, China has announced plans for 1.8 million job losses in the coal and steel sectors. Even so, not all workers in "old economy" industries such as coal and steel have skills that are transferable elsewhere. China's economy slowdown has fanned jitters and broader panic as the growth sinks to its lowest in two decades.
"The economic slowdown is within expectations, but what has exceeded our expectations is the panic," Xiao said. "Panic is more frightful than the downturn — it might worsen the downturn."
In December last year, China set a two-year deadline for money-losing enterprises owned by the central government to improve their performance, with firms that suffer losses for three straight years liable to be shut down.
Among those companies targeted for mergers could be the airline sector.
Separately, China's judicial authorities vowed to do more to combat financial crimes in the coming year, as the economy slows and leaders remain concerned that financial risks might lead to higher unemployment and social unrest.
Chief prosecutor Cao Jianming (曹建明) yesterday said in his annual report to the nation's top legislature that his department would prioritize investigations into finance, securities and insurance to "guarantee a healthy development of capital market."
The Supreme People's Procuratorate, China's top prosecuting body, plans to tackle financial crimes involving illegal fundraising to protect the public and focus on contract fraud crimes to establish a "fair and orderly environment of market competition," he said.
Supreme People's Court President Zhou Qiang (周強) said in a separate report to the Chinese National People's Congress in Beijing that the top court would strengthen oversight of financial crimes involving the Internet.
Chinese courts last year handled 1.4 million cases involving peer-to-peer lending worth 821 billion yuan (US$126 billion), Zhou said.
More than 72,000 people were convicted for crimes involving illegal fundraising and peer-to-peer lending.
Regulators have also targeted the booming online loan industry by investigating one of the largest peer-to-peer brokers, Ezubao (e租寶).
Comments will be moderated. Keep comments relevant to the article. Remarks containing abusive and obscene language, personal attacks of any kind or promotion will be removed and the user banned. Final decision will be at the discretion of the Taipei Times.