Telecoms set iPhone sales targets high
DEBUT: The smartphones released this weekend are expected to boost telecom profits as well as subscriber numbers, with sales of up to 10,000 new iPhones daily
Chunghwa Telecom Co (中華電信), the nation's largest telecom operator, yesterday said it aims to sell up to 20,000 new iPhones on the first day of sales in Taiwan, while Taiwan Mobile Co (台灣大哥大) is eyeing more than 20,000 new iPhone sales during the three-day Double Ten National Day weekend.
The companies' remarks came as the local debut of Apple Inc's iPhone 6S and iPhone 6S Plus drew long lines of customers who waited for hours in front of electronics retailers and telecom stores.
Lin Kuo-feng (林國豐), president of Chunghwa Telecom's mobile business group, said heavy rain in Taipei did not seem to have dampened the enthusiasm of shoppers who had been lining up since Thursday.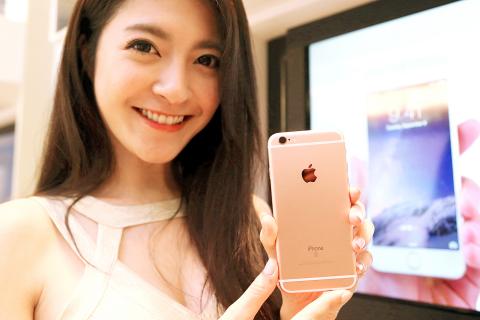 A woman holds a rose-gold iPhone 6s in Taipei yesterday. Taiwan's three largest telecom companies said they have enough phones in stock for this year.
Photo: CNA
"Sales of iPhone 6S are better than expected, as the new products offer more color options," Taiwan Mobile chief business officer Jeff Ku (谷元宏) said.
Rose-gold has been the most popular color, he said.
An opening sale event held by electronics retailer Tsann Kuen Enterprise Co (燦坤實業) at its flagship store in Taipei's Neihu District (內湖) attracted more than 800 shoppers, while Studio A Electronic Corp (晶實科技) and Data Express Infotech Co (德誼數位科技), Apple-authorized resellers in Taiwan, also saw people brave the rain to purchase the new smartphone models.
On Sept. 28 Apple said it had sold more than 13 million iPhone 6S and iPhone 6S Plus models over the first weekend of their launch, better than any previous first weekend sales results.
The sell through of new iPhones will affect the telecom companies' performance this quarter, including their 4G business.
Strong sales of the new smartphone models are expected to boost Chunghwa Telecom's 4G subscribers to 4.4 million users by the end of this year from 3.56 million as of last quarter, the company said.
The growth would allow it to secure a 40 percent share of the nation's 4G market, which is expected to have 11 million users this year, it said.
Chunghwa Telecom chairman Rick Tsai (蔡力行) yesterday said the firm's annual net profit for this year should surpass its target after posting the best quarterly profit in four years for last quarter.
Net profit surged 21.3 percent year-on-year to NT$11.8 billion (US$359.2 million) during the quarter ending Sept. 30, while revenue inched up 0.1 percent to NT$56.18 billion last quarter.
"We are cautiously optimistic about the fourth quarter," Tsai said.
"As the company has been performing quite well so far this year, we expect net profit to beat our forecast," Tsai added.
In the first three quarters of the year, Chunghwa Telecom's net profit totaled NT$33.35 billion, or NT$4.3 per share. The results approach its full-year projection of NT$37.5 billion or NT$4.83 per share, and up 9.2 percent from the same period last year.
Taiwan Mobile saw net profit for the first three quarters slightly decline to NT$11.92 billion from NT$11.96 billion a year earlier and Far EasTone Telecommunications Co (遠傳電信) also posted a decline in net profit from January through last month to NT$9.36 billion from NT$9.44 billion a year earlier.
Far EasTone said sales of new smartphones could exceed 10,000 per day to achieve the highest daily sales of iPhone models over the past few years, while smaller rival Taiwan Star Telecom Corp (台灣之星) said the number of orders for new iPhones had tripled this year from last year.
"We expect strong iPhone 6S sales to grow our 4G subscribers by 20 percent this year," Taiwan Star president Cliff Lai (賴弦五) said. "At the end of the year, our 4G subscribers could reach 1.8 million users."
Additional reporting by CNA
Comments will be moderated. Keep comments relevant to the article. Remarks containing abusive and obscene language, personal attacks of any kind or promotion will be removed and the user banned. Final decision will be at the discretion of the Taipei Times.