Minister backs taxation proposals
Minister of Finance Chang Sheng-ford (張盛和) yesterday said he would respect a legislative decision to amend the stock transaction and capital gains taxes, as the rapid global slowdown warrants economically friendly policies.
The legislature today is expected to approve proposals to cut the stock transaction tax from 0.3 percent to 0.25 percent and set the capital gains tax at 0.05 percent.
The planned change, the fourth of its kind in three years, would leave tax burdens intact for most investors, but would spare active traders a 0.1 percent levy on share transactions totaling NT$1 billion (US$30.62 million) within a year.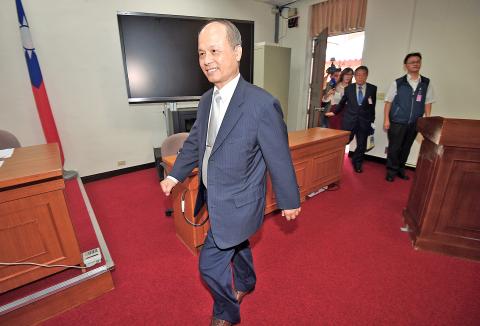 Minister of Finance Chang Sheng-ford attends a Chinese Nationalist Party (KMT) Legislative Caucus Congress in Taipei on Tuesday.
Photo: Lo Pei-der, Taipei Times
"The proposed revision has turned from taxation into a political issue," Chang told reporters.
Chinese Nationalist Party (KMT) presidential candidate Hung Hsiu-chu (洪秀柱) proposed the revision to woo stock investors, Chang said.
The move might also help to settle the longstanding controversy over changes to the taxes and end the policy uncertainty once and for all, Chang added.
The unexpected and rapid economic slowdown lent support to policies favorable to GDP growth, he said, adding that the taxation change could be considered a stimulus measure.
The nation's export-oriented economy grew 3.84 percent in the first quarter, but slowed to 0.52 percent in the second quarter and is struggling to stay above zero this quarter due to faltering external demand.
The decline in exports showed signs of easing this month after reaching double-digit percentages the past three months, Chang said, adding that the landscape might improve next quarter due to Christmas sales.
To prop up the economy, the ministry is considering commodity tax cuts on new-car purchases and encouraging exports of used cars, Chang said.
While exports of used cars might not lift GDP growth much, it would help boost domestic demand and ease air pollution, as old cars tend to be less environmentally friendly, he said.
The ministry plans to cut the commodity tax for new car purchases by NT$30,000 to NT$50,000, but it is up to the Cabinet to finalize the details, the minister said.
Used cars are badly needed in emerging countries and generate significant revenue for exporters in South Korea and Japan, Chang said.
Used cars carry heavy weight in the local market as well, with two-year-old cars accounting for 50 percent of overall automobiles, the minister said.
The commodity tax cut would provide rental agencies incentives to buy new cars, he said.
Comments will be moderated. Keep comments relevant to the article. Remarks containing abusive and obscene language, personal attacks of any kind or promotion will be removed and the user banned. Final decision will be at the discretion of the Taipei Times.