Girls duped into bonded labor in India's textile mills
Tens of thousands of these women come from poor, illiterate communities, whose families are duped into sending their daughters on three-year work schemes that are promoted as an easy way to earn dowries
From her two-room concrete home nestled among the lush coconut plantations of southern India, housewife Kavita has seen the region's textile industry flourish for a decade, thanks to the labor of poor, lower caste women like herself.
Promising a better life, "agents" have for years visited these poor, rural parts of Tamil Nadu and taken a steady stream of girls and women to work in thousands of cotton spinning mills, part of a textile and clothing industry that is one of India's biggest employers and a major exporter.
The image of women from remote hamlets going to work, staying in hostels and earning money spinning cotton as part of a booming global garment supply chain, should be empowering in a country like India, an emerging power still plagued by poverty and male domination.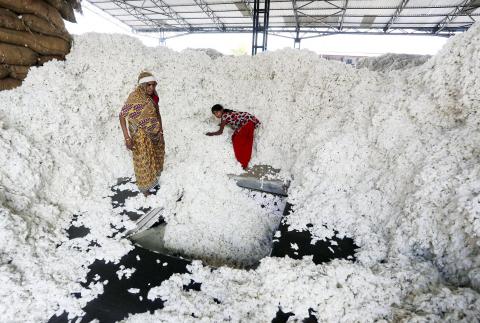 A woman and a girl work at a cotton mill near Dhamnod, Dhar District, about 300km from Bhopal, India, on March 2.
Photo: EPA
However, former workers in Tamil Nadu's Erode District describe a system of exploitation and bonded labor that has cast a dark shadow over India's long-established textile industry.
"I tell all the women I meet not to go and work in the mills. I know what the agents promise and what is real. It is not the same," said 23-year-old Kavita, dressed in a lime sari, a crimson flower in her long black plait, sitting on a woven mat in her village home.
"For almost a year, I wasn't allowed to leave the compound where the hostel and mill were. They made me work double shifts. I only got out because I lied and said my aunt had died and I had to attend the funeral. I never went back," she sai.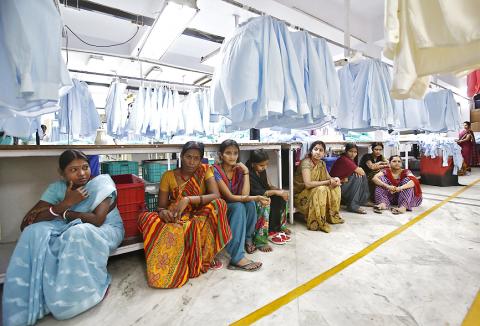 Employees sit during their lunchtime inside a textile mill of Orient Craft Ltd at Gurgaon in Haryana, northern India, on April 16 last year.
Photo: Reuters
Just 13 at the time, Kavita was one of thousands of girls and women employed under "marriage schemes" offered by mills, which mushroomed in Tamil Nadu when India's economic liberalization began in the early 1990s.
The schemes draw in cheap labor — mainly young women from poor, illiterate and low-caste or Dalit communities, such as the Arunthathiyar — and offer lump sum payments at the end of a three-year period. They are promoted as an easy way to obtain the hefty dowries families need to marry off daughters.
Recruits are offered full board in hostels at the mills' compounds, holidays twice a year, outings such as picnics and temple visits, and clean and safe working and living conditions.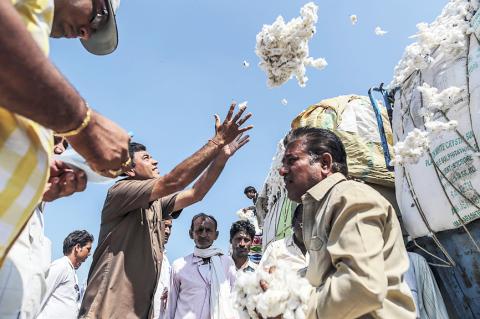 A trader checks cotton during an auction at the local market in Yavatmal, India, on Feb. 4.
Photo: Bloomberg
However, former workers and numerous studies by civil society groups such as the Freedom Fund, Anti-Slavery International and the Centre for Research on Multinational Companies say the women are kept in closed hostels, overworked, underpaid and abused.
"The binding of workers in this way, where they cannot change employers, is a form of bonded labor," a study last year by the Freedom Fund and the C&A Foundation said.
"Very low wages, excessive and sometimes forced overtime, lack of freedom of movement and of association, verbal and sexual abuse were found," it said.
The study suggested at least 100,000 girls and women were being exploited in this way.
Industry bodies deny allegations of exploitation and say the schemes are "apprenticeships" in line with labor laws offering high wages. Cases of abuse are rare, they say.
DUPED BY DOWRIES
The textile and clothing industry is one of largest and most important in the Indian economy.
It is the second-largest employer in the country after agriculture, providing about 45 million jobs and making up 4 percent of India's GDP and 13 percent of exports in 2013-2014.
Much of the US$42 billion a year export industry is located in western Tamil Nadu, where Namakkal, Coimbatore, Tirupur, Karur, Erode and Salem districts are referred to as the "Textile Valley of India."
In the past 20 years, more than 2,000 processing and dyeing units, spinning mills and apparel factories have sprung up, employing about 300,000 people. Workers turn the cotton into yarn, fabric, clothes, much of it for Western high street shops.
However, competition is stiff and, to boost productivity and increase margins, parts of this lucrative supply chain are built on bonded labor.
Traffickers are called "agents," legal loopholes are exploited and girls are overworked, afraid to speak out for fear of losing the money needed for their weddings, activists say.
Dowries are given by a girl's family to the groom and his parents at the time of marriage. The custom was banned more than five decades ago, but is still widely practiced.
Under the Sumangali schemes — "happily married woman" in Tamil — mills pay agents up to 2,000 rupees (US$30) to scout mud-and-thatch Dalit hamlets for families with single daughters.
They offer 30,000 to 60,000 rupees (US$470 to US$940) for three years' work, but former workers say they do not receive the full amount because of deductions for their food and lodging.
In Thalavadi Town, 520km southwest of Tamil Nadu's capital, Chennai, former workers in bright salwar kameez and sari trickle into a room rented by the Erode-based charity Rights Education And Development Centre (READ).
The young workers, who are here for free computer training classes, sit in plastic chairs, sipping sweet tea from plastic cups, sharing stories of exhaustion, illness and abuse.
Some women say they were regularly forced to stand for more than 12 hours a day working the spindles. Others speak of migraines, excessive stomach pains and heavy bleeding during menstruation from dust and poor ventilation in the factories.
Many said they were verbally abused or pushed if they were "slow." They could not leave the mill compound without permission, and their telephone calls were often monitored or restricted by supervisors.
Civil society groups say they have also found cases of alleged sexual abuse and death-related suicides.
READ said it had documented 85 cases of suspicious deaths over the last five years.
"Cases are however hard to prove as girls are unwilling to discuss it openly or go to the police, fearing stigma in the community," READ director R. Karruppusamy said.
Few workers have contracts, so find it hard to prove they were working in a particular mill and get compensation, he said.
FACTORY INSPECTIONS
The head of the South Indian Mills Association (SIMA), representing about 400 mills, said the government and the SIMA had strict codes of conduct on the treatment of workers, but admitted there might be violations.
"Some unscrupulous people have disobeyed these rules and now everyone has got a bad name due to this. Police are taking action as and when necessary," SIMA secretary-general K. Selvaraju said.
He said apprentices in Tamil Nadu were paid 300 rupees daily, almost double the national average and some employers offered workers extras like a university education.
A senior official in Tamil Nadu's labor and employment department said labor department officials carried out regular inspections in all industries, including textiles and clothing.
He denied allegations that police and local officials were often reluctant to act against the politically and economically influential industry.
Brands such as Gap, Primark and C&A which source some of their garments from Tamil Nadu say they do regular audits to ensure their suppliers comply with their codes of conduct.
"Sumangali is completely unacceptable and could result in the termination of a relationship should we find that the system exists in our suppliers' operations and the contractual partner is not willing to stop the practice," Thorsten Rolfes from C&A Europe's communications department said.
Many retailers such as C&A are also part of the Ethical Trading Initiative of firms, trade unions and campaigners, which are tackling Sumangali by regulating recruitment agents, inspecting hostels and supporting charities to run campaigns.
"We are well aware that local mindsets are slow to change and that a lot still has to be done in southern India to provide female workers with better options," Rolfes said. "The scope of the problem may still be large, but ... C&A is making a small, but sustainable impact."
Additional reporting by Sandhya Ravishankar
Comments will be moderated. Keep comments relevant to the article. Remarks containing abusive and obscene language, personal attacks of any kind or promotion will be removed and the user banned. Final decision will be at the discretion of the Taipei Times.