Mafia eye 'immigrant hotels' reviving Sicily's economy
Resorts once filled with high-end travelers are being occupied by asylum seekers in a state scheme meant to help the immigrants and ailing tourism, but critics say the mafia is the one really cashing in
Asylum seekers washing up by the thousands in recession-hit Sicily are boosting the local economy as hotels transform into immigrant centers, with help from state subsidies said to have caught the mafia's eye.
Sofas and wide-screen TVs in the once opulent suites of the Villa Mokarta hotel in Salemi have been replaced with beds for up to eight migrants a room, their only possessions tatty rucksacks, sneakers and the odd Bible or Koran.
"Tourist reservations had dropped way under 50 percent so we decided to give housing immigrants a go instead," manager Salvatore Cascia said.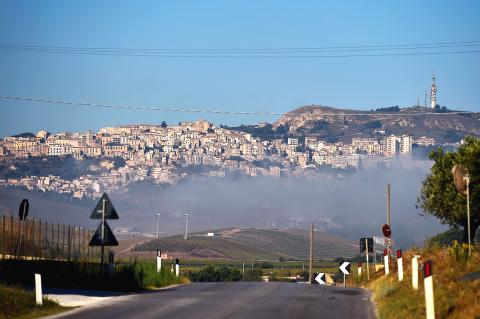 A road stretches toward the city of Salemi in Sicily, Italy, on Oct. 21, where slumping tourism is prompting hotels to resort to housing asylum seekers.
Photo: AFP
Since February, he has been in charge of the welfare of about 140 asylum seekers, mostly from West Africa and Bangladesh.
The government gives Villa Mokarta and hundreds of structures like it across Italy 30 euros (US$37.50) a day per migrant, 2.50 euros in pocket money and the rest earmarked for bed, board and services such as Italian language lessons, psychological care and legal assistance in applying for asylum.
This new hospitality business, which currently houses more than 32,300 migrants according to the Italian Ministry of the Interior, is worth close to 1 million euros a day.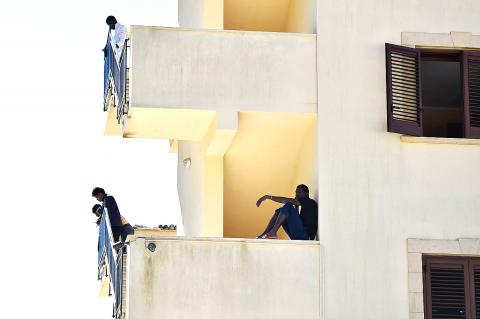 Asylum seekers wait at the Villa Mokarta hotel, a temporary center for immigrants, in Salemi, Sicily, on Oct. 21.
Photo: AFP
"Here we eat, do some sport and free our minds," Ebou Cham from the Gambia said as he lifted weights with a sports instructor in a make-shift gym in the hotel, which also boasts table football, Sky television, free Wi-Fi and a vegetable lot run by the immigrants.
The daily workout "helps to forget about many things we leave behind, the things that make us come here," said the 21-year-old, who washed up on Italy's shores in January after a harrowing three-month journey across desert and sea.
The villa is one of 32 beachside or hill-top hotels, holiday resorts, former schools and old people's homes that have been transformed over the past 12 months into immigrant centers in the Trapani region in western Sicily.
Cascia, 56, said the venture was bringing "much needed oxygen" to the local economy in the south, which is suffering its worst recession since World War II, according to economic research center Fondazione Curella.
Yet in Sicily, as in many other Italian regions, there is growing resentment over the presence of immigrants. Minors housed in a center on the outskirts of Rome had to be moved to safety last week after local residents attacked the institution.
With more than 150,000 people landing on Italy so far this year — and more boats incoming — other structures are expected to open.
Aid organizations such as Catholic charity Caritas have warned that crime groups in the poverty-stricken mafia heartland may be exploiting the system to pocket much of the funds.
"There's a river of money, millions of euros, handed out without tenders and without checking whether the structures have anti-mafia certificates," said Sicilian Senator Mario Michele Giarrusso of the Five Star Movement political party.
"It's an enormous scandal and in a land like Sicily, an incredible risk," he said, adding that police investigations had been launched into centers found to be keeping migrants in cramped spaces on dirty beds and giving them only white rice to eat.
Don Sergio, head of Caritas in Palermo, said not only were "many trying to make money off these poor devils," but were cutting corners on services like psychological care, essential for those fleeing war zones and persecution.
"These are people who have been exploited, raped — and not just women. They have come to Italy for a better future, but if you don't help them they can get agitated and it can end in violence," he said.
Psychologist Ambra Lumia said mentally ill, traumatized or suicidal asylum seekers needed "specialized care which they often don't receive" in centers run for profit alone.
Italy has repeatedly been found to lack sufficient guarantees concerning facilities for asylum seekers, with the European Court of Human Rights joining the UN's refugee agency and the Council of Europe in voicing concerns about the matter this month.
One of the biggest complaints is the lengthy wait to have asylum requests examined and permits granted, a problem Italy blames on a paperwork backlog.
Figures published this week show Rome received 25,401 applications between January and June — nearly as many as it did in the whole of last year.
"I've been here for nine months and it's really tiring — eating, sleeping, eating, sleeping. I owe the Italian people, they rescued me from the sea, I want to work and contribute," said Lamin Colley, 22, a Villa Mokarta resident.
Giarrusso said the issue is more complicated than red tape alone. He points the finger at a local mafia boss — born in the Trapani region and a fugitive on Italy's most wanted list — saying he is behind housing centers that "spring up from morning to night."
"The interest is to open as many as possible and keep the migrants there. The longer they keep them, the more money they bring in," he said, adding that there were reports of volunteers at some institutions being stalked and threatened if they try to blow the whistle on corruption.
"It's a business all right. These migrants die in the Strait of Sicily just to bring millions of euros to the mafia," he said.
Comments will be moderated. Keep comments relevant to the article. Remarks containing abusive and obscene language, personal attacks of any kind or promotion will be removed and the user banned. Final decision will be at the discretion of the Taipei Times.