Gas station owners demand higher margin from CPC
Hundreds of private gas station operators yesterday protested outside compounds belonging to CPC Corp, Taiwan (CPC, 台灣中油) and the Ministry of Economic Affairs, demanding higher margins from selling the state-owned refiner's products.
The protesters said they have experienced constrained margins since 2011, when CPC began canceling or decreasing incentives for private gas station operators in either monthly or yearly increments.
They said the changes have created a difficult operating environment.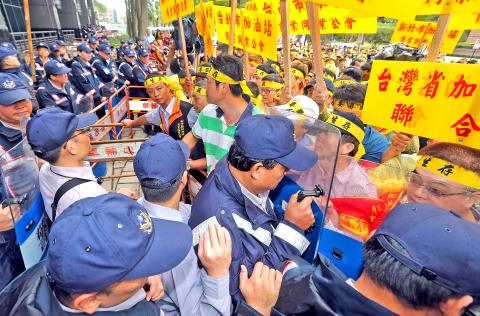 Police block members of the Gas Station Operators' Association from entering a CPC Corp, Taiwan compound in Taipei yesterday.
Photo: CNA
"The profit margin rate for selling unleaded gasoline has fallen to 7 percent from 14 percent," Gas Station Operators' Association director-general Lee Wei-lung (李威龍) said. "The margin rate for biodiesel sales has dropped to 4 percent, which is affecting business survival."
Lee said the difference between retail and wholesale prices for gasoline had remained unchanged for more than 15 years, but increasing operational costs and rising minimum wages have given private gas station operators a very hard time.
"There is no chance for private gas station operators if CPC refuses to fix the situation," he said.
The protesters also urged the ministry to end its biodiesel fuel policy in the wake of fuel problems for motorists.
Taiwan Car Rental and Travel Group (台灣租車旅遊集團) general manager Hsu Hao-yuan (徐浩源) said there have been many cases where its vehicles have stalled in the middle of the road because of B2 biodiesel — which is 98 percent conventional diesel fuel blended with 2 percent biodiesel.
Hsu said the B2 biodiesel produces microbes that clog fuel tanks and severely affect a vehicle's performance and safety.
"Our company takes thousands of tourists to Hehuanshan (合歡山) every day... It would be dangerous if a vehicle stalls while navigating the mountain," Hsu said.
CPC vice president Chang Ray-chung (張瑞宗) said the margin for private gas station operators is NT$2.46 per liter, but CPC has begun discussing the possibility of adjusting the rate and will communicate with government agencies and consumer organizations on the issue.
CPC plans to propose a new margin in three months' time, he said.
As for the use of biodiesel, Chang said the company phased out its biodiesel fuel policy in May and has been discontinuing B2 biodiesel supplies since then.
Separately, the refiner yesterday denied a report published by the Chinese-language Next Magazine regarding the gas pipeline explosions in Greater Kaohsiung in July and August.
The report said that CPC knew there were abnormal readings from the underground petrochemical pipelines three hours before the explosions, but did not report them or take any action.
Chang said that after the explosions took place, CPC checked the records and discovered abnormal pressure readings.
Comments will be moderated. Keep comments relevant to the article. Remarks containing abusive and obscene language, personal attacks of any kind or promotion will be removed and the user banned. Final decision will be at the discretion of the Taipei Times.