Air France to run 40% of flights as pilots strike
BUDGET PILOTS? As the carrier prepares the launch of a budget brand, pilots slated to move from Air France to the brand protest changes to their contracts
Air France is to only operate 40 percent of its flights from today as pilots begin a one-week strike over company plans to cut costs aimed at recapturing market share from budget airlines, the airline said in a statement on Saturday.
Speaking to France Inter radio earlier on Saturday, Air France chief executive officer Frederic Gagey repeated that the strike, which could run until Monday next week, would cost the airline between 10 million and 15 million euros a day (US$10.3 million to US$10.9 million).
Europe's second-largest traditional carrier by revenue said early this month it would move ahead with a plan to open new bases in Europe under the Transavia brand to recapture market share from low-cost carriers and rivals based in the Middle East.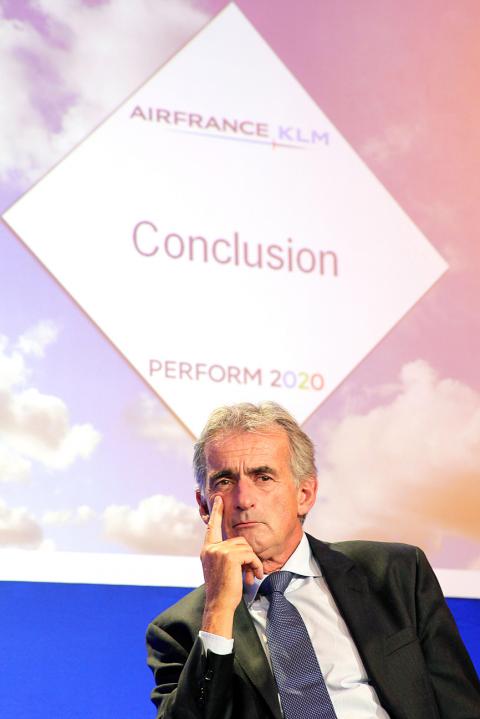 Air France Chief executive Frederic Gagey pauses during a news conference to announce the company's 2020 strategic plans, in Paris, France, on Thursday.
Photo: Bloomberg
"Air France forecasts it can guarantee 40 percent of its flights for Sept. 15 given the number of pilots on strike on that day is estimated at 60 percent," the airline said.
Air France, which issued a profit warning in recent months, is hampered by powerful unions in their efforts to lower costs. The main pilots' unions have called for strikes from today through Monday next week.
The airline said it is open to negotiations on benefits tied to seniority and incentives for Air France pilots who transfer to Transavia, but would not yield to trade unions demanding that the labor contracts of Transavia pilots carry the same terms as those flying under the Air France brand.
"The passengers will be informed and we ask them, if possible, to change their tickets to avoid this period which is a little uncertain," Gagey told France Inter.
Comments will be moderated. Keep comments relevant to the article. Remarks containing abusive and obscene language, personal attacks of any kind or promotion will be removed and the user banned. Final decision will be at the discretion of the Taipei Times.