Farmer raises prized meat with cider-fed cows
French livestock farmer Francois-Xavier Craquelin believes a little pampering goes a long way when it comes to producing meat prized for its melt-in-the mouth tenderness.
Cattle at his farm in northeastern France enjoy classical music, a special massage machine and even regular tipples of Normandy cider.
In Japan, Kobe cattle — one of the wagyu breeds recognized worldwide for its quality — are treated to sake or beer. But in Normandy, cider is king.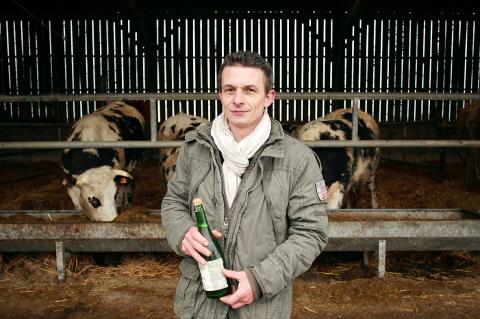 Farmer Francois-Xavier Craquelin, 40, poses with a bottle of his cider in front of oxen at his farm in Villequier, northwestern France, on Feb. 14. WARNING: Excessive consumption of alcohol can damage your health.
Photo: AFP
So, in his quest to produce ever better meat, this farmer and organic cider producer has been putting the Japanese technique into practice at his farm not far from the banks of the River Seine at Villequier, between Rouen and Le Havre.
Six animals get extra-special special treatment with music, massage, organic food and plenty of fresh air. And when Craquelin, 40, fills up a bucket of cider with about 15 liters for his cattle, there is never a drop left.
"I give them 150 liters four months before slaughter. For an animal of nearly a tonne that represents the equivalent of 1.5 liters for a human," he said.
The alcohol is said to help create highly marbled meat with the muscle finely interspersed with monosaturated fat, giving the meat moisture and tenderness.
Meat with marbling — or intramuscular fat — is especially high in oleic acid, a monosaturated fat also prevalent in olive oil, and commands the highest prices.
Experts say the lower melting point also gives the meat a distinctive flavor that tastes better to most people.
Craquelin, who took over the family farm a decade ago after studying at business school, has about 100 Normandy cattle of which six have recently had the "cider treatment."
Fed on organic food and put out to graze on pasture for seven months of the year, the farmer sends the cattle for slaughter after three years.
Then from March onwards the meat from his "cider beef" cattle starts to find its way onto the plates of some Normandy and Parisian restaurants.
Two animals are slaughtered each month with everything consumed by the end of May.
Some restaurateurs like Christophe Mauduit, from Jumieges in Normandy, reserve early to avoid missing out.
This is a good product, with beautiful marbling," Mauduit said.
However, it is not just this beef that Craquelin feels passionate about.
As well as promoting this niche product, he also wants to promote the Normandy breed from which the region's famous butter and Camembert cheese is made.
The breed won a blind test organized by Gault Millau, one of the most influential French restaurant guides, said Cindy Lebas, quality manager for the Rouen-based firm Grosdoit, a meat wholesaler which promotes the breed.
And now, backed by the region's Pays de Caux-Vallee de Seine tourism office, Craquelin would like to see it gets its own appellation d'origine controlee (AOC) label, of the sort awarded to wine certifying its geographical origin.
Despite being famed for its other produce, Normandy has yet to be recognized for its beef in the same way as Charolais or Limousin cattle from central France have been.
It will not be an easy task, Craquelin said, but he is determined to work towards his goal over the "long term."
Comments will be moderated. Keep comments relevant to the article. Remarks containing abusive and obscene language, personal attacks of any kind or promotion will be removed and the user banned. Final decision will be at the discretion of the Taipei Times.