Giant looks to expand YouBike rental system
OUT AND ABOUT: Citing good weather and a stronger global economy, the bicycle maker expects to post 5 to 10 percent revenue growth this year
Bicycle maker Giant Manufacturing Co (巨大機械) yesterday said that it is likely to expand its YouBike public bicycle rental system to Changhua County, Greater Taichung and New Taipei City.
The company has signed a contract with the Changhua County Government to launch the cycle sharing system there, which would make the county the second place in Taiwan to offer the service, Giant chief executive Anthony Lo (羅祥安) told reporters yesterday.
The Greater Taichung City Council is in the process of deciding whether to install the system there too, he added.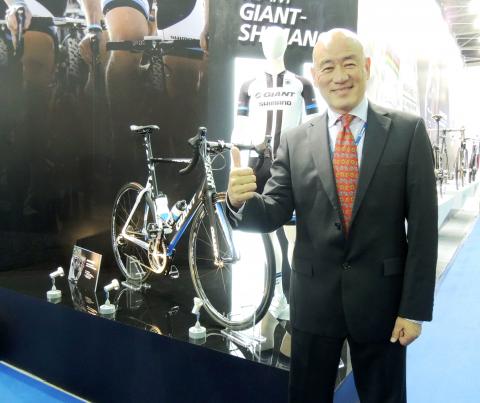 Giant Manufacturing chief executive officer Anthony Lo poses for a picture with one of Giant's bicycles at the Taipei International Cycle Show yesterday.
Photo: Yang Ya-min, Taipei Times
In New Taipei City, the company has set up trial systems in Xindian (新店) and Xizhi (汐止) districts that connect with the cycle network in Taipei, Lo said, adding that the New Taipei City Government will decide whether to increase the number of rental sites based on the results of the trials.
Giant also plans to install an additional 173 YouBike rental sites and put 5,030 bicycles in circulation in Taipei by the end of the first half of next year, Lo said.
Lo said the company expects its service in the capital to break even next year.
According to Lo, the service is easier to operate in cities with large populations and many commuters, such as Taipei, London, Paris and New York.
However, Lo said that Taipei's cycling infrastructure can still be improved.
Citing Canadian bicycle sharing system BIXI's bankruptcy filing in January, Lo said that such services are not likely to generate much profit for the company operating them because rental fees have to be kept low enough for the general public to be able to access the service.
Despite the low profitability of public cycle networks, Giant's Taipei sales still rose after it launched the YouBike system there.
According to the company, each of the system's bikes costs about NT$10,000 (US$330) because they are designed to withstand frequent use.
The bicycles are built to be used 13 times a day on average, much more often than the twice a day use that most other bicycles average, the company said.
Giant expects to post 5 to 10 percent revenue growth this year, eyeing better weather around the world and a stronger global economy, Lo said.
He added that the company forecasts sales to China to grow by 10 percent this year, while the average selling price of its products is expected to remain at about US$300 per unit.
Last year, the company posted revenue of NT$54.32 billion, up 0.36 percent from NT$54.13 billion a year ago, according to its filing with the Taiwan Stock Exchange.
Giant distributed 6.31 million bicycles worldwide last year for an annual rise of 1.5 percent, Lo said.
Last year, the company shipped 2.4 million bicycles to China, up from approximately 2 million a year earlier, he said.
Comments will be moderated. Keep comments relevant to the article. Remarks containing abusive and obscene language, personal attacks of any kind or promotion will be removed and the user banned. Final decision will be at the discretion of the Taipei Times.