Acer to launch wearable 4G devices
POPULAR MARKET: High consumer demand for wearable devices and faster data transmission have prompted Acer to launch new mobile products later this year
Acer Inc (宏碁), the world's fourth-largest PC maker, yesterday said it plans to launch wearable devices later this year, jumping on the bandwagon of popular mobile devices.
"We actually had demonstrated our products [wearable devices] to some of the company's clients at the Consumer Electronics Show earlier this month," said Peter Shieh (謝金全), vice president of Acer's corporate account business division under the company's Greater China regional operation department.
"The company is still developing certain types of wearable devices. We certainly aim to play a role in the new market," he told reporters on the sidelines of a product launch event.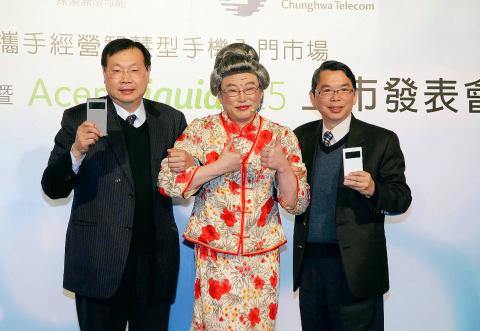 Peter Shieh, left, vice president of Acer's corporate account division, yesterday launches the company's newest five-inch, dual-core smartphone, the Liquid Z5, in Taipei.
Photo: CNA
He did not said if the wearable products would include smart watches. In collaboration with telecom carrier Chunghwa Telecom Co (中華電信), Acer yesterday launched its new smartphone product, called the Liquid Z5, in Taipei. The new smartphone runs on Google Inc's Android 4.2 Jelly Bean mobile operating platform and is equipped with MediaTek Inc's (聯發科) MT 6572 1.3 GHz dual-core processor, a 5-inch display and 5 megapixel camera.
Shieh said Acer also planned to launch smartphones supporting 4G this year to meet consumers' needs for faster wireless data transmission. He added that Acer will consider collaborating with the nations' top three telecom carriers — Chunghwa Telecom, Taiwan Mobile Co (台灣大哥大) and Far EasTone Telecommunications Co (遠傳電信) — to help boost sales of its smartphones this year. Acer plans to sell between 140,000 and 175,000 smartphones in the home market this year, Shieh said.
That is between 100 percent and 150 percent more than 70,000 units of smartphones Acer sold in Taiwan last year, he added.
According to Acer's internal financial report, up to 90 percent of the company's smartphone sales were generated from telecom carriers' purchases last year, Shieh said, forecasting that the percentage would remain the same this year.
"Given telecom carriers' extensive sales channels, Acer has to collaborate with operators to sell its smartphone products in Taiwan and other countries as well," Fubon Securities Co (富邦證券) analyst Ange Wu (吳淵傑) said by telephone.
Wu said Acer, like its largest domestic rival, Asustek Computer Inc (華碩), can make profits of between 20 and 30 percent of each smartphone's sales price by selling smartphones to telecom carriers.
However, unlike China's Lenovo Group (聯想), the world's biggest PC maker, Acer has to differentiate its products from others and build strong brand loyalty to stay competitive in the smartphone market because "Lenovo has a huge home market that Acer lacks," Wu said.
Separately, in a filing to the Taiwan Stock Exchange, Acer yesterday said its former chairman and chief executive officer Wang Jeng-tang (王振堂) had resigned from the company's board of directors before his term was to end in June.
Comments will be moderated. Keep comments relevant to the article. Remarks containing abusive and obscene language, personal attacks of any kind or promotion will be removed and the user banned. Final decision will be at the discretion of the Taipei Times.