China exports boosted by demand from US, Europe
SURPRISINGLY STRONG: The better-than-expected data came after China's economy snapped out of a slump, with GDP growth in the third quarter accelerating to 7.8 percent
China's exports for last month grew much more strongly than expected, official figures showed yesterday, as a rebound in overseas shipments gained strength on demand from China's US and Europe.
Exports increased 12.7 percent to US$202.2 billion from November last year, the Chinese General Administration of Customs said — compared with a forecast of 7 percent in a poll of 11 economists by the Wall Street Journal reported by Dow Jones Newswires.
Imports were up 5.3 percent year-on-year to US$168.4 billion, with China's trade surplus last month expanding to US$33.8 billion from US$31.1 billion in October.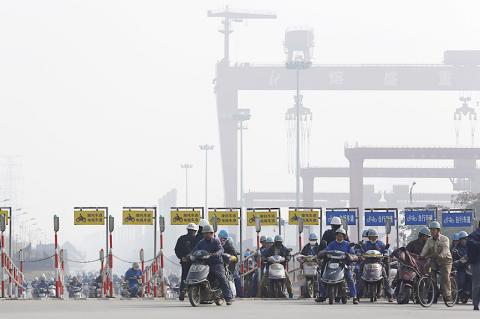 Workers ride motorcycles and bicycle after their shifts at an entrance of the Rongsheng Heavy Industries shipyard in Nantong, China, on Wednesday.
Photo: Reuters
The surplus for last month was also considerably larger than the median forecast of US$21.7 billion by the 11 economists.
The surprisingly strong exports data came after overseas shipments expanded 5.6 percent in October following a decline of 0.3 percent in September.
"China's November exports came in much higher than expected," ANZ bank economists Liu Li-Gang (劉利剛) and Zhou Hao (周浩) said in a report, citing "better demand from developed economies" the US and the EU.
The latest trade data came after China's economy snapped out of a first-half slump, with GDP growth in the third quarter accelerating to 7.8 percent after it slowed during the first two quarters.
Earlier this month, official figures showed that China's manufacturing growth maintained a strong pace last month from the previous month to stay at a 19-month high.
The purchasing managers' index (PMI) was at 51.4, unchanged from October, the Chinese National Bureau of Statistics said.
A reading above 50 signals expansion while a figure below indicates contraction.
In the first 11 months of the year, China's total trade, combining exports and imports, reached US$3.8 trillion, up 7.7 percent from the same period last year, Customs said. The government's target for this year is 8 percent.
"The data in January to November suggest that China could achieve the 8 percent trade growth target for the whole year," Liu and Zhou said.
However, they cautioned against overoptimism, stressing what they described as "inflated export growth in the first half of the year" when companies were caught overinvoicing, which instigated a crackdown by Chinese authorities on the practice.
Meanwhile, China, the world's largest buyer of iron ore, increased imports of the steelmaking ingredient to a record last month as traders replenished stockpiles.
Imports totaled 77.84 million tons last month, up from 67.83 million tonnes in October and 65.78 million tonnes a year earlier, the latest customs data showed.
Cumulative shipments in the first 11 months jumped 10.9 percent to 746.1 million tonnes, the customs agency said.
Iron ore entered a bull market in July as users in China increased stockpiles that shrank in March to the lowest level since 2009.
The market's supply and demand outlook is positive as producers globally struggle to deliver larger volumes and demand in China continues to grow strongly, Rio Tinto Group iron ore chief executive officer Andrew Harding said on Wednesday.
Additional reporting by Bloomberg
Comments will be moderated. Keep comments relevant to the article. Remarks containing abusive and obscene language, personal attacks of any kind or promotion will be removed and the user banned. Final decision will be at the discretion of the Taipei Times.