Aurora to launch own-brand 3D printer next month
LICENSE TO PRINT MONEY? The F1 will sell to businesses for NT$100,000. The market for 3D printers is forecast to grow 49% this year, 75% next year and 100% in 2015
Office appliance sales agent Aurora Group (震旦) is aiming to sell its own-brand 3D printers to 200,000 Taiwanese small and medium-sized enterprises, or nearly one-seventh of the total, next year.
The "F1" 3D printer is designed by Aurora and manufactured by automation equipment maker Contrel Technology Co (東捷) using the Industrial Technology Research Institute's (ITRI) technologies, Aurora said yesterday.
Set to hit the market next month, the F1 3D printer is priced at about NT$100,000 (US$3,400), Tony Tsai (蔡坤明), senior manager of Aurora's 3D printing business department, said at a product launch event.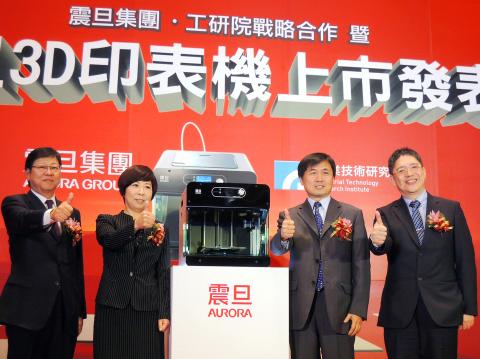 Representatives of the Aurora Group, the Industrial Technology Research Institute and the Tongtai Group give the thumbs-up at a press conference in Taipei yesterday announcing the launch next month of Aurora's new 3D printer.
Photo: Yang Ya-min, Taipei Times
The price is much higher than the 3D printer made by local electronics conglomerate New Kinpo Group (新金寶集團), which in August said it would begin selling its "da Vinci" printer at NT$15,000 starting this month.
Asked to elaborate Aurora's advantages in selling higher-priced 3D printers against New Kinpo, Tsai said: "It's all about the price-performance ratio."
The F1 also features a user-friendly interfaces to its new product and the firm provides year-long customer service, he added.
Aurora distributes printers for Sharp Corp and Hewlett-Packard Co (HP) in Taiwan and sells Stratasys Ltd's 3D printers in China. The company also markets office furniture, appliances and supplies.
The company will continue using a business-to-business (B2B) model, rather than a business-to-consumer (B2C) one, to sell its 3D printer, Tsai said.
In a report released in October, market researcher Gartner Inc forecast worldwide shipments of 3D printers that are priced at less than US$100,000 would grow 49 percent to 56,507 units this year.
The figure is estimated to increase 75 percent to 98,065 units next year and rise another 100 percent to about 196,130 units in 2015, Gartner said.
"The 3D printer market is a brand-new market, and we are confident we will hold a notable market share in the long run," Aurora executive director Alice Lin (林樂萍) said.
After Taiwan, Aurora plans to break into China and then to other overseas markets, Lin said.
To keep up with market trends, Aurora also plans to introduce its own "Aurora Office Cloud" to consumers as soon as the third quarter of next year.
The new could technology service will allow customers to upload and download files to be printed, it said.
Comments will be moderated. Keep comments relevant to the article. Remarks containing abusive and obscene language, personal attacks of any kind or promotion will be removed and the user banned. Final decision will be at the discretion of the Taipei Times.