Chu Wen-chen takes Taipower helm
Tatung University president Chu Wen-chen (朱文成) yesterday became the first outsider to become Taiwan Power Co's (Taipower, 台電) president in the state-run company's 60-year history, but he is facing a long list of challenges.
These challenges include the controversial construction of the Fourth Nuclear Power Plant in Gongliao District (貢寮), New Taipei City (新北市), losses of NT$193.6 billion (US$6.56 billion) and the rising cost of fuel and electricity.
"Taipower must operate more efficiently to rebuild its broken image," Vice Minister of Economic Affairs Francis Liang (梁國新) said yesterday at a handover ceremony.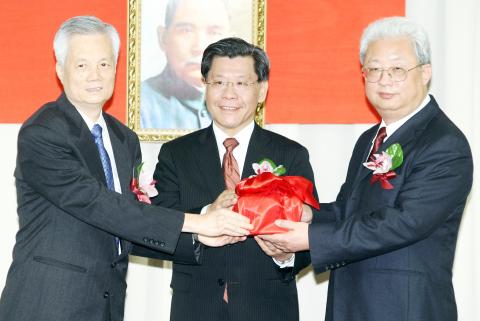 Former Taiwan Power Co president Lee Han-shen, Vice Minister of Economic Affairs Francis Liang and Taipower's new president Chu Wen-chen, left to right, take part in a handover ceremony in Taipei yesterday.
Photo: CNA
"We expect Chu to run Taipower from a new perspective and with a new approach," Liang said.
Chu replaced Lee Han-shen (李漢申), who retired yesterday.
Chu said he agreed with Lee's business philosophy that Taipower should operate effectively to achieve sales growth without being hindered by a bureaucratic system.
"Taipower is in the service sector, not the manufacturing sector. Taipower's duty is to provide satisfactory service to its customers. The company should work to achieve this goal," Chu said.
Chu said his priority after taking office is to improve communication with the public.
Taipower needs to publicize information about electricity supplies as soon as possible to clarify misunderstandings, he added.
"Taipower has to fix many of the ways its business performs, but it was never as bad as some have claimed," Chu said.
Asked by reporters for his views on the Fourth Nuclear Power Plant, Chu said: "Taipower will seek alternative solutions if a referendum shows a majority of people do not want a new nuclear power plant."
"We don't mean to threaten the society. The problem is that if the Fourth Nuclear Power Plant does not become operational, everyone will have to suffer an electricity supply constraint, but we are confident we could solve the problem," Chu said.
Chu said he would demand that Taipower employees do not collude with contractors, adding that if anything illegal is discovered, the company would report the matter to prosecutors immediately.
Comments will be moderated. Keep comments relevant to the article. Remarks containing abusive and obscene language, personal attacks of any kind or promotion will be removed and the user banned. Final decision will be at the discretion of the Taipei Times.