Singapore moves to refute tax accusations
Billionaire Australians buying exclusive condominiums. Germans moving money from Swiss accounts. Secretive banking laws. Asia's premier wealth management center. Low tax rates.
As Singapore revels in its reputation as an open economy with the world's highest concentration of millionaires, the tiny island of 5.3 million people is also accused of being a magnet for tax evaders — an image it is vehemently seeking to banish.
Amid German concerns that its wealthy citizens are moving funds from Switzerland before a new German-Swiss tax treaty takes effect next year, Singapore and Germany said on Sunday they had agreed to bolster their double-taxation agreement with internationally agreed standards on information sharing.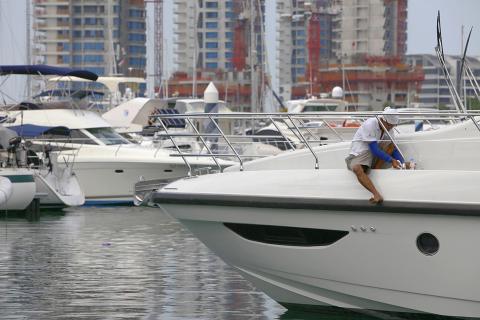 A deckhand cleans a yacht berthed at the One Degree 15 Marina Club in Singapore in April. As Singapore revels in its reputation as an open economy with the world's highest concentration of millionaires, the tiny city-state of 5.3 million people is also accused of being a magnet for tax evaders.
Photo: Reuters
"Banking secrecy will not constitute an obstacle to exchanging information," said the joint statement, which came at the end of German Finance Minister Wolfgang Schaeuble's weekend visit to Singapore.
Media reports have put the amount of German money moving to Singapore in the double-digit billions.
"The perception is that Swiss banks have concluded Switzerland is unlikely to remain a tax haven for much longer and Singapore is the new place to do business," said Ronen Palan, a professor at City University London who has conducted numerous studies on offshore finance.
Swiss banks could see assets from western European clients fall 28 percent to 623 billion Swiss francs (US$668 billion) by 2014 because of the deals to tax undeclared accounts, the Boston Consulting Group said in a report in May.
Singapore and its rival Hong Kong look set to benefit.
Together, the two Asian hubs manage US$1 trillion in offshore funds, with about 75 percent of that coming from within the region.
However, Singapore and Hong Kong may overtake Switzerland — now the largest offshore wealth center with assets of about US$2.1 trillion — in 15 to 20 years, the report said.
With tax rates that top out at 20 percent and no capital gains tax, Singapore is already synonymous with wealth. BMW and Mercedes were the top two brands among all cars sold in the first eight months of this year, bestsellingcarsblog.com says.
Safe and clean, the city-state bills itself as a tropical refuge with exclusive residential enclaves, a marina for super-yachts, two casinos, fine dining, high-end boutiques and an annual Formula One race that brings in the global jet-set.
Rich residents include Eduardo Saverin, the co-founder of Facebook, who has called Singapore home since 2009.
Locals who made fortunes in real estate, finance and trading figured prominently, but the list also included New Zealand-born investor Richard Chandler with US$2.9 billion and China-born property developer Zhong Sheng Jian (鐘聲堅) with US$1.4 billion.
A 10 percent property duty imposed on foreigners, part of efforts to cool the housing market, has done little to dissuade the ultra-wealthy — many of them Chinese, Indian, Malaysian and Indonesian -— from ploughing money into Singapore real estate.
Australian mining tycoons are also moving in. Gina Rinehart reportedly paid US$46.7 million for two units at Seven Palms Sentosa Cove, a luxury beachfront condominium, while Nathan Tinkler recently moved his family to Singapore.
Over the past three years, Singapore has upgraded half of its 70 tax treaties with other countries to make it easier to exchange information on possible tax dodgers.
From next year, bankers who help clients evade tax risk ending up in court on money laundering charges.
The new rules are part of "efforts to protect the integrity and reputation of Singapore as a trusted international financial center," the Monetary Authority of Singapore, the central bank and financial regulator, said last week.
Thomas Eigenthaler, chairman of the German Tax Union, welcomed an upgrade to Germany and Singapore's "rudimentary, fragmentary" tax agreement, but said "the decisive thing will be how it is actually implemented."
Palan said trying to assess the city-state's credentials is tricky, partly due to difficulties getting detailed information about its offshore finance sector.
"We cannot get any access to Singapore and that for us does raise flags," he said. "It's easier to do research on Jersey or Switzerland, but in Singapore it's almost impossible."
As more tax-paying millionaires want to get exposure to Asian growth, they say, Singapore must do all it can to show it will not tolerate black money.
"Singapore stands to gain a lot from proactively embracing the move towards global tax transparency," said Dawn Quek, a senior associate at law firm Baker & McKenzie, Wong & Leow.
Comments will be moderated. Keep comments relevant to the article. Remarks containing abusive and obscene language, personal attacks of any kind or promotion will be removed and the user banned. Final decision will be at the discretion of the Taipei Times.