Bank of China opens its first Taiwanese branch
Bank of China (中國銀行), the first Chinese lender to set up a branch in Taiwan, aims to forge closer ties with Taiwanese firms with operations in China, including offers of yuan settlement services once Taipei and Beijing work out a mechanism, the lender's president Li Lihui (李禮輝) said yesterday.
Li, who hosted the official opening of the branch in Taipei, said he met with officials at the central bank and the Financial Supervisory Commission for talks on business development plans.
"As a commercial bank, we hope the two sides can promptly set up a currency settlement mechanism," Li told a media briefing.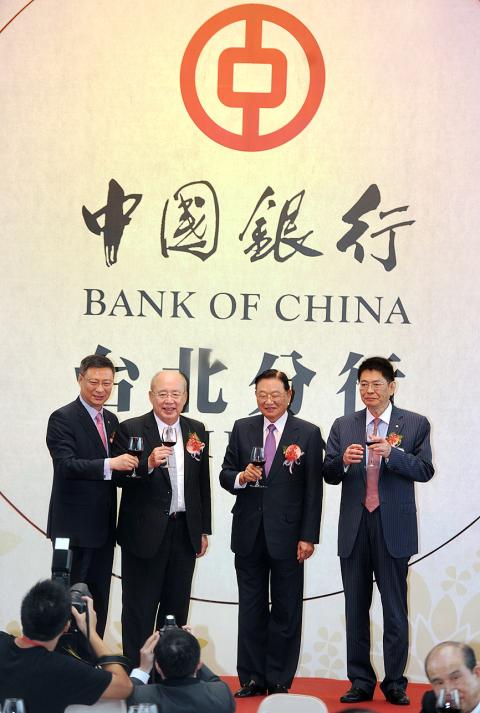 From left to right, Bank of China president Li Lihui, former Chinese Nationalist Party (KMT) chairman Wu Poh-hsiung, Straits Exchange Foundation Chairman Chiang Pin-kung and the bank's Taiwan branch general manager Tsai Rongjun make a toast at the opening ceremony for the bank's first Taiwanese branch in Taipei yesterday.
WARNING: EXCESSIVE CONSUMPTION OF ALCOHOL CAN DAMAGE YOUR HEALTH
Photo: Liao Chen-hui, Taipei Times
Bank of China is the world's top provider of yuan settlement services, which amounted to 803 billion yuan (US$126 billion) for the first five months of the year, Li said.
"We are the main [yuan] settlement bank in Hong Kong, Macau and Malaysia and we hope to extend the services to Taipei once regulatory barriers are removed," he said.
With cross-strait trade valued at US$160 billion last year and Taiwan's trade surplus totaling US$89.8 billion, yuan settlement would save Taiwanese firms with cross-strait operations significant foreign-exchange costs and allow them to better control foreign-exchange risks, Li said.
Currently, only designated banking units can conduct yuan exchanges, but they cannot take yuan deposits or provide yuan loans. Further, domestic lenders may provide yuan-related business for corporate clients through their offshore banking units.
The designated banking units have to go through either Bank of Taiwan (台灣銀行) or Mega International Commercial Bank (兆豐銀行) for currency settlements with Bank of China in Hong Kong.
Li said Bank of China plans to provide over 200 billion yuan to help Taiwanese firms expand in China in the next three years.
Potential borrowers are Taiwanese firms that can advance China's development plans and meet lending criteria, he said.
Li said the Taipei branch would keep close contact with the headquarters of Taiwanese firms with operations in China so the lender can better mobilize its global resources to strengthen services.
Comments will be moderated. Keep comments relevant to the article. Remarks containing abusive and obscene language, personal attacks of any kind or promotion will be removed and the user banned. Final decision will be at the discretion of the Taipei Times.