Indonesia Freeport mine resumes work after violent strike
The Indonesian subsidiary of US mining giant McMoRan said yesterday it had resumed operations after a two-week suspension caused by fighting among workers.
Work was halted last month after employees complained that a deal struck in December last year — which ended a three-month strike over wages and conditions — was not being implemented properly by management, with some strikers not being paid.
The company closed the mine, saying some workers who participated in the strike had "engaged in acts of violence and intimidation against non--striking workers and supervisory personnel."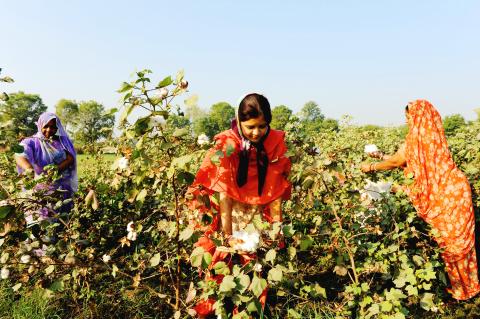 Indian farm hands pluck cotton at a field in Badarkha Village, about 30km from Ahmedabad, India on Dec. 7, 2009. India on Sunday reversed its ban on cotton exports just six days after the policy announcement was greeted with outrage by farmers.
Photo: AFP
Three workers were arrested by police over the violence.
However, yesterday Freeport Indonesia spokesman Ramdani Sirait said: "The workers' union and the company management agreed last week to mobilize all workers to return to work today."
hope
"Hopefully everything will go back to normal again," he added.
Freeport did not give details on what led to the latest agreement, but workers' union spokesman Virgo Solossa said: "Freeport has promised to give salary to those who had not received their pay."
However, Solossa defended the workers, saying: "Those who did not receive their salary were upset and took it out on their colleagues who received their pay."
"We also want the three workers to be released as I am afraid that if they are prosecuted, it could lead to another protest," he said.
negotiated return
The workers agreed to return to the mine in mid-December after negotiating a 37 percent increase in their wages, which started at US$1.50 an hour for union members and better conditions for contractors.
The company slashed production by 50 percent when 8,000 of Freeport's 23,000 workers went on strike last year.
The strike at the mine triggered a spate of violence, with at least eight people killed in ambush attacks and clashes with police in the already troubled province.
Comments will be moderated. Keep comments relevant to the article. Remarks containing abusive and obscene language, personal attacks of any kind or promotion will be removed and the user banned. Final decision will be at the discretion of the Taipei Times.