Two die in HTC construction collapse
EXPANSION PLANS: The deaths came as the smartphone provider races to meet global demand for its products, with its second-quarter sales double those of last year
HTC Corp (宏達電), the world's fifth-largest smartphone brand, reported two deaths and seven injuries in a building collapse at a Taoyuan construction site yesterday.
A support beam between the second and first floors of a building under construction buckled at 9:35am, causing the seven-story structure to collapse, killing two contract workers. Seven others were injured and rushed to nearby hospitals for emergency treatment, a company statement said.
The accident occurred at a facility expansion site near HTC's Taoyuan headquarters. The firm announced in April that it would spend NT$1.77 billion (US$61.6 million) to buy eight plots of land for the expansion plan.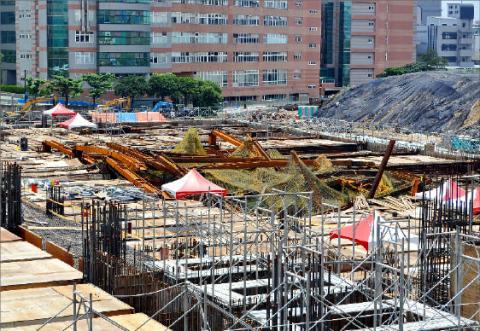 宏A pile of steel girders is seen at the building site for HTC Corp's new factory in Taoyuan yesterday after the structure collapsed, killing two workers and injuring six.
Photo: CNA
The Council of Labor Affairs' Labor Safety and Health Department said the new facility had been built up to a height of 28m, or seven stories. The structure collapsed because of poor design and lower-than-required strength in the steel materials connecting the first and second floors, inspectors said.
HTC said the accident would not have any impact on its business operations, adding that it was working with the site contractor to ensure safety before resuming the project.
HTC has embarked on an aggressive expansion plan this year to cope with rising demand for its mobile phones. Its smartphone shipments more than doubled to 24.6 million units last year from 11.7 million units in 2009.
In the first quarter, the firm shipped 9.7 million smartphones — a quarterly figure that neared 40 percent of last year's total shipments.
HTC CEO Peter Chou (周永明) said earlier this year that the firm would double production capacity at its Shanghai facilities to 2 million handsets a month, in addition to the new facility being built in Taoyuan.
"We may outsource production to leverage other contract makers' capacity. This will give us flexibility," Chou also said, without naming potential partners.
News of the accident came a day after HTC released its second-quarter sales figures of NT$124.4 billion, beating its earlier forecast of NT$120 billion.
That was double its second-quarter sales for last year, and a rise of 19.4 percent from the first three months.
Market analysts viewed its decision to release sales figures on the third day of the month instead of the sixth day, as usual, as a move to appease investors' concerns.
Investors were worried about its future shipments because analysts said HTC was procuring fewer components from suppliers. The Sunday release boosted HTC's shares by 4.5 percent, closing at NT$1,055 on the Taipei Stock Exchange yesterday — the highest level in a week. The stock has climbed 17 percent this year and peaked at NT$1,300 on April 28.
Chou last month said HTC had indeed stocked up on components from suppliers in the wake of Japan's earthquake and tsunami on March 11, which caused supply shortages.
However, it now has a steady stream of supplies and therefore procurement orders had returned to normal.
Full second-quarter earnings will be announced tomorrow.
Additional reporting by CNA
Comments will be moderated. Keep comments relevant to the article. Remarks containing abusive and obscene language, personal attacks of any kind or promotion will be removed and the user banned. Final decision will be at the discretion of the Taipei Times.