Government pushes biotech industry
RISING STAR The administration vowed more support for the sector, including a US$20 million investment in TaiMed, which is developing a treatment for AIDS
The government is making a new push into the biotechnology sector by investing in a company that will focus on the development of a drug for treating AIDS.
The state-owned National Development Fund (NDF) will pump in US$20 million to help establish a biotech firm to be called TaiMed Biologics, Council for Economic Planning and Development Chairwoman Ho Mei-yueh (何美玥) told a press conference yesterday.
The move is one of a package of government measures designed to turn the nation's biotech industry into a trillion-dollar sector, following in the footsteps of the foundry and display industries.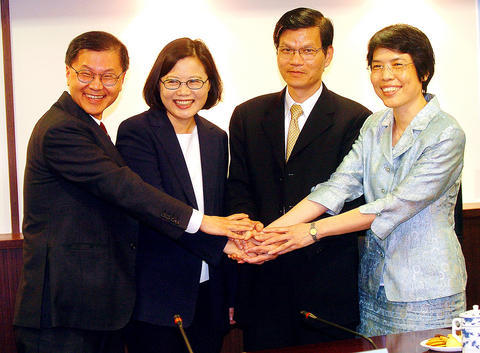 Taiwanese-American AIDS treatment expert David Ho, left, TaiMed Biologics CEO Tsai Ying-wen, second left, Academia Sinica President Wong Chi-huey, second right, and Council for Economic Planning and Development Chairwoman Ho Mei-yueh hold hands at a press conference promoting the biotech industry in Taipei yesterday.
PHOTO: CHEN TSE-MING, TAIPEI TIMES
Of the NT$30 billion (US$907 million) budget the government plans to invest in the biotech sector, the state fund has directly invested NT$8 billion in 12 biotech companies, Ho said, adding that the government could pump in more capital to fuel the industry's growth even after the budget is expended.
The new biotech company will be chaired by former vice premier Tsai Ying-wen (蔡英文), with world-renowned AIDS researcher David Ho (何大一) as its founder.
David Ho told the press conference that, although it was impossible to know whether the NDF would see significant returns from its investment in TaiMed Biologics, this kind of investment is needed to stimulate the industry.
TaiMed Biologics purchased the patent for the drug TNX-355, which was developed by US-based Genentech Inc, and plans to complete development of the drug, which blocks HIV from entering human cells, in three years.
After launching TNX-355 on the global market, TaiMed Biologics will devote itself to developing flu and bird flu vaccines, he said.
If TaiMed Biologics later establishes a plant to manufacture drugs or other medical products, the NDF would also finance that, Ho Mei-yueh said.
Inviting private enterprises to jointly invest in TaiMed Biologics, the CEPD chairwoman said she had a shortlist of possible investors and would first approach Terry Gou (郭台銘), chairman of Hon Hai Precision Industry Co (鴻海精密).
On Sept. 4, Gou announced he would donate NT$15 billion to National Taiwan University to fund biomedical engineering projects and the construction of a hospital for treating cancer.
In June, Gou, who leads the world's largest contract maker of electronic components, reportedly said he would donate NT$100 billion to fund cancer research by scientists in Taiwan and China.
"I will brief him [to try to win] his support for the company [TaiMed Biologics]," Ho Mei-yueh said.
To encourage development of the biotechnology and pharmaceutical industry, the legislature in June passed tthe Biotech and New Pharmaceutical Development Statute (生技新藥產業發展條例).
The new law stipulates that 35 percent of company investment in R&D and personnel training in the two sectors is tax-deductible for the next five years.
If a firm's expenditure on R&D and personnel exceeds its average spending in the previous two years, 50 percent of the extra amount is tax-deductible.
In addition, employees in the industries who receive stock options do not need to pay income tax on their shares.
Government researchers who get permission from the institute where they are employed can also cooperate with private companies to develop new drugs, while researchers can work as consultants at private companies.
Comments will be moderated. Keep comments relevant to the article. Remarks containing abusive and obscene language, personal attacks of any kind or promotion will be removed and the user banned. Final decision will be at the discretion of the Taipei Times.