FEATURE: Japanese `house weddings' come to Taiwan
BRANCHING OUT As the Japanese market shrinks due to the low birth rate, Dears Brain is eager to expand overseas and it will make Taiwan its first move
Ever imagined fireworks going off just at the perfect moment to make your wedding even more romantic? Thought about having a professional photographer capture the most memorable moments of your honeymoon?
These are just two of the novel ideas being brought to Taiwan by Tokyo-based Dears Brain, Japan's fifth-largest "house wedding" firm in terms of revenue.
"Taiwan's wedding market is like Japan's 10 years ago, when the `house wedding' concept was still new to the public. But now in Japan, 15 percent of the newlyweds choose to do it this way," said Yoshiyuki Matsuba, director of Dears Brain, during an interview in Taipei on Saturday.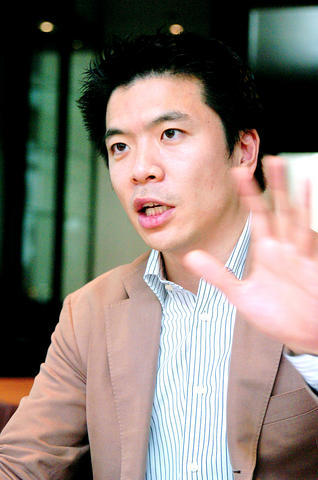 Yoshiyuki Matsuba, director of Dears Brain, a Tokyo-based ''house wedding'' firm, speaks to the media during an interview on Saturday.
PHOTO: CHANG CHIA-MING, TAIPEI TIMES
Bullish about the market's potential, the Japanese firm plans to set up Dears Brain Taiwan (迪詩) at the end of this month and spend NT$80 million (US$2.4 million) to acquire the operational rights to Grace Hill (麗庭莊園), a church-style venue that offers wedding planning services in Taipei's Neihu District.
The original investors in Grace Hill will become the landlords leasing the facilities to Dears Brain's, he said.
Matsuba, 32, will be in charge of Dears Brain's Taiwan business when the new company starts operations next month.
"House wedding" has been a popular wedding style in the West for decades. With stand-alone mansions and outdoor gardens as the main elements, newlyweds and their guests can celebrate the day in their own private space, in stark contrast to narrow and noisy venues often seen in restaurants or hotels.
Sensing a crisis arising as Japan's wedding market is shrinking due to the low birth rate, Dears Brain is eager to expand overseas with Taiwan, known as a Japan-friendly country, as its first foreign market to test the waters.
"We have been looking for the best markets to enter, from Korea to Beijing and Shanghai. Thanks to Mitsui and Co (Taiwan) Ltd's help in March, we came into contact with Grace Hill, which shares similar service concepts with us," Matsuba said.
Established three years ago with a space of 2,000 ping (6,600m2), Grace Hill claims to be the nation's first house wedding operator. It managed sales of NT$120 million last year by hosting weddings and business banquets, a figure Matsuba said will significantly jump after Dears Brain introduces its service model and implements cost control schemes.
"Three years ago, Dears Brain also acquired a poorly performing wedding firm in Japan and has successfully boosted its performance" by overhauling its operations, he said, explaining his confidence that the company would make a splash in the marketplace.
According to government statistics, approximately 140,000 couples got married in Taiwan last year, about one-fifth of the number in Japan.
"Our goal is to provide consumers with an alternative, and I believe the marketplace will change due to the competition," he said.
Although the Taiwanese market is smaller, Dears Brain believes that more couples will choose house weddings over normal banquets at hotels, thanks to people's growing budgets and a trend to pursue tailor-made weddings.
The new business expects to host 500 weddings and banquets during its first year of operations with revenues topping NT$300 million. Following two years of fine-tuning, the firm plans to invest NT$400 million building two wedding houses, one in Taipei and the other in either Taichung or Kaohsiung.
"In the third year, we hope to serve 1,500 couples, about 1 percent of the market, and post sales of NT$800 million," Matsuba said.
It is estimated that a couple on average spends NT$700,000 on their wedding, from shooting wedding photos to hosting banquets. That puts the overall value of the market at close to NT$100 billion a year.
Taipei 101 has also declared its intention to tap into the top-end wedding market by making use of its unique features.
Last month, it announced plans to offer a "one stop shopping" wedding service that ranges from making purchases to booking wedding venues.
Its main weapon will be to allow big spenders to make their marriage proposals in messages on the electric signboards on the world's tallest building at a cost of more than NT$3 million a time. It is aiming for sales of NT$50 million a year.
Dears Brain says that in addition to having wedding planners that map out detailed procedures for each couple, the firm also plans to open a bridal shop next spring.
Dears Brain president Hirokazu Kogishi was quoted by CNA on Thursday as saying he is also considering setting up a school to train more professional wedding planners in Taiwan. It is a long-term idea and no details are available as yet, Matsuba said.
Established in 2001, Dears Brain posted sales of ¥4.4 billion (US$36 million) last year and has a goal of ?6.5 billion in turnover this year. It plans to enter the market in Singapore, China, Malaysia and Hong Kong as well as Taiwan.
Comments will be moderated. Keep comments relevant to the article. Remarks containing abusive and obscene language, personal attacks of any kind or promotion will be removed and the user banned. Final decision will be at the discretion of the Taipei Times.