Counterfeiters fake an entire company
THINKING BIG Electronics giant NEC was staggered to find out that copyright pirates had set up a parallel NEC brand linked to factories in China, Taiwan and Hong Kong
At first it seemed to be nothing more than a routine case of counterfeiting in a country where faking it has become an industry.
In mid-2004, managers at the Tokyo headquarters of the Japanese electronics giant NEC started receiving reports that pirated keyboards and blank CD and DVD discs bearing the company's brand were on sale in retail outlets in Beijing and Hong Kong.
So like many other manufacturers combating intellectual property thieves in China, the company hired an investigator to track down the pirates.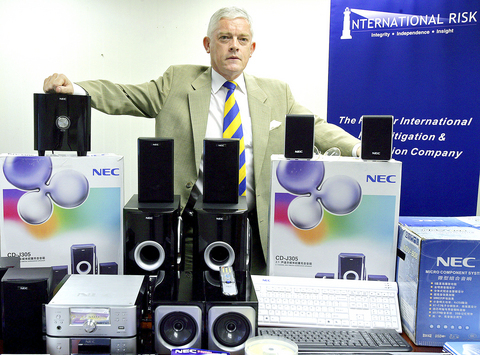 Stephen Vickers, president and CEO of International Risk, poses with NEC counterfeit products in Hong Kong last week. Vickers says pirates used fake documents to collect royalties on counterfeit products.
PHOTO: NY TIMES NEWS SERVICE
After two years and thousands of hours of investigation in conjunction with law enforcement agencies in China, Taiwan and Japan, the company said it had uncovered something far more ambitious than clandestine workshops turning out inferior copies of NEC products.
The pirates were faking the entire company.
Links
Evidence seized in raids on 18 factories and warehouses in China and Taiwan over the past year showed that the counterfeiters had set up what amounted to a parallel NEC brand with links to a network of more than 50 electronics factories in mainland China, Hong Kong and Taiwan.
Using the company name, the pirates copied NEC products, and went as far as developing their own range of consumer electronic products -- everything from home entertainment centers to MP3 players.
They also coordinated manufacturing and distribution, collecting all the proceeds. The actual NEC even received complaints about products that they did not make or provide with warranties.
According to Steve Vickers, president of International Risk, a Hong Kong-based company that NEC hired to investigate the piracy, documents and computer records seized by police during factory raids showed that the counterfeiters carried NEC business cards, commissioned product research and development in the company's name and signed production and supply orders.
He said they also required factories to pay royalties for "licensed" products and issued official-looking warranty and service documents. Some of the factories that were raided had erected bogus NEC signs and shipped their products packaged in authentic-looking boxes and display cases.
All told, about 50 products were counterfeited, including home entertainment systems, MP3 players, batteries, microphones and DVD players, according to NEC.
NEC declined to identify the counterfeiters for what it said were legal reasons, and there have not yet been any convictions in the case. NEC also said it was unable to estimate the total value of the pirated goods from these factories, but the company said it believed the organizers had "profited substantially" from the operation.
"These entities are part of a sophisticated ring, coordinated by two entities based in Taiwan and Japan, which has attempted to completely assume the NEC brand," said Fujio Okada, the NEC senior vice president and legal division general manager, in written answers to questions.
"Many of these entities are familiar with each other and cooperate with each other to develop, manufacture and sell products utilizing the NEC brand," he said.
Officials from branch offices of the State Administration of Industry and Commerce in China confirmed that counterfeit goods carrying the NEC brand had been seized in raids on a number of factories and that investigations were continuing.
Vickers, a former senior Hong Kong police officer, said he believed that the NEC case showed how piracy was evolving from often shoddy copying of branded goods to highly coordinated operations.
"On the surface, it looked like a series of intellectual property infringements, but in reality a highly organized group has attempted to hijack the entire brand," he said.
"It is not a simple case of a factory knocking off a branded product. Many of them have been given bogus paperwork that they say gives them the right to do it."
NEC said it would continue collecting evidence to support further criminal complaints. It was also planning to start civil lawsuits against some factories while negotiating with others.
Worldwide sales
The investigation also revealed that counterfeit goods from these factories were on sale in Taiwan, China, Hong Kong, Southeast Asia, North Africa, the Middle East and Europe, sometimes alongside legitimate NEC products in retail outlets.
The first phase in NEC's effort to disrupt the counterfeiters began last year when evidence that the piracy was being coordinated from Taiwan was provided to authorities.
Prosecutors in Kaohsiung issued warrants for the local police to raid a warehouse and offices in the area where investigators seized 60 pallets of counterfeit goods, mostly audio products, carrying the NEC brand.
Evidence collected in these raids also implicated factories in China.
These late-night raids were extensively covered in the local media, with television news footage of the warehouse showing cartons of fake goods piled to the roof. Officials at the Kaohsiung District Court said the case was still under investigation.
Beginning last November, the Chinese economic authorities coordinated further raids on nine factories in the cities of Guangzhou, Zhongshan, Zhuhai and Shenzhen in Guangdong Province.
According to inventories compiled by the authorities, counterfeit goods seized in these raids included 40,000 keyboards, about 1,300 CD players and two truckloads of home theater speakers.
An official for a Chinese economic inspection team, who would give his name only as Zeng, said the managers of one factory that had been raided insisted they had a license to manufacture NEC goods.
He said that Chinese officials were seeking clarification from NEC and that the investigation was continuing.
He said if the factory owners or management were convicted they could be fined if the value of the pirated products was less than 50,000 yuan (US$6,200). If the value of the goods exceeded 50,000 yuan, they could also be imprisoned for up to three years.
In Zhongshan, investigators also confirmed that they had impounded NEC goods while the investigation continued. Officials in the Guangzhou office of the economic agency declined to discuss the case.
The counterfeiting of the NEC brand comes as the authorities in Beijing face increasing international pressure to crack down on rampant intellectual property theft.
Ineffective
The US government and American businesses say that the Chinese efforts to combat piracy have been ineffective.
Gregory Shea, president of the US Information Technology Office in Beijing, which represents more than 6,000 technology companies, said it was clear that the top Chinese leaders understood that intellectual property rights contributed to economic growth.
"We commend that, but we do recognize nonetheless that the situation is not improving on the ground," he said. "It has not turned the corner."
Before the visit of Chinese President Hu Jintao (胡錦濤) to the US last month, Beijing began a publicity campaign to draw attention to what it said was an intensified crackdown on intellectual property theft.
Vickers said many multinationals were facing similar challenges to NEC as piracy expanded and became better organized.
"The reality is that factories in China will produce what they are asked to produce," he said. "The challenge is finding out who placed the orders and who funded it."
Comments will be moderated. Keep comments relevant to the article. Remarks containing abusive and obscene language, personal attacks of any kind or promotion will be removed and the user banned. Final decision will be at the discretion of the Taipei Times.