Baidu mesmerizes Wall Street
BUYING FRENZY According to analysts, a `son-of-Google' investor mentality helped to more than quadruple the Chinese search-engine leader's share price to US$122.54
Baidu.com Inc (百度), the maker of China's leading Internet search engine, mesmerized Wall Street on Friday as its stock more than quadrupled -- a dazzling debut driven by the company's connections to Google Inc as much as its own tantalizing potential.
The Beijing-based company's shares closed at US$122.54 on the NASDAQ Stock Market, a 354 percent gain from its initial public offering (IPO) price of US$27. That represented the biggest one-day gain since the final days of the dot-com when IPOs regularly soared.
No IPO has climbed as high on the first day of trading as Baidu's did on Friday since the shares of software maker Selectica Inc soared 371 percent during their March 2000 debut, according to IPOhome.com. Selectica's shares closed unchanged on Friday at US$3.15 on the NASDAQ.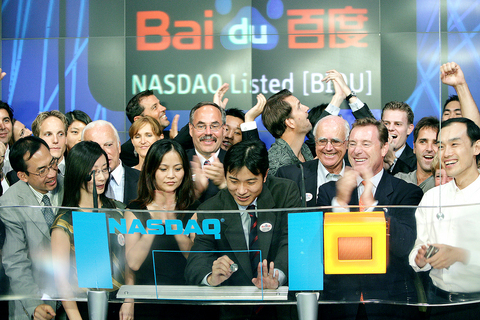 In this photo provided by NASDAQ, Baidu.com chief executive Robin Li presides over the close of trading on the NASDAQ in New York on Friday. He is joined by NASDAQ's director of the Asia-Pacific region Lawrence Pan, far left, Li's wife, Melissa, third from left, NASDAQ's senior managing director of sales for the Asian region Stuart Patterson, second from right, and Baidu.com co-founder Eric Xu, far right.
PHOTO: AP
The rapid run-up gave Baidu a market value of US$4 billion -- a lofty appraisal of a five-and-a-half-year-old company that only recently became profitable. Baidu earned US$1.8 million on revenue of US$13.6 million during the first half of this year.
The company's management expects much bigger things as more of China's vast population surf the Internet. More than 100 million of China's residents currently surf the Web. Baidu has been able to pluck enough visitors from that audience to emerge as the world's sixth-most trafficked Web site.
"I am very confident in the future of Internet search in China," Baidu chairman Robin Li (李彥宏) said during an interview on Friday. "This is a very basic need for every consumer in China. We are very fortunate to be in this space."
Googlemania played a major role in Friday's buying frenzy.
As the early search-engine leader in China's nascent Internet market, Baidu is inspiring comparisons to Google Inc.
Like Google, Baidu -- traded under the ticker symbol BIDU -- so far has made most of its money from text-based ads that are tied to search requests and generate a commission whenever the commercial links are clicked on.
Drawn by Baidu's potential, Google even paid US$5 million last year for 749,625 of the company's shares -- a stake worth US$92 million on Friday.
Google's early ownership interest has convinced some investors that it will eventually buy Baidu for a lucrative price, although there has been nothing concrete to support that belief.
Memories of Google's IPO may have provided Baidu with its biggest lift. Nearly a year ago, Google went public at US$85 per share -- a price that many investors viewed as inflated but now looks like a bargain with the company's shares closing at US$292.35 on Friday.
"This is a `son-of-Google' investor mentality," said David Menlow, president of IPO Financial, an industry newsletter. "Everyone remembers they could have had Google at US$85 and don't want to let it happen again."
Although Baidu's profits have been puny so far, Menlow and another IPO expert, Linda Killian, said the rapid run-up in the company's stock isn't quite the same as the late 1990s mania that produced mind-boggling valuations for unproven dot-coms that imploded into dot-bombs.
As the Internet becomes more ingrained in the everyday lives of the Chinese, it's possible to envision Baidu duplicating the tremendous growth that Google has enjoyed, Killian said. Google's market value now hovers around US$85 billion -- something that would have seemed unfathomable when Stanford University graduate students Larry Page and Sergey Brin launched the company seven years ago.
"There are a handful of companies where you need to dream," said Killian, a portfolio manager for an investment fund specializing in IPOs.
"You have to think, `If everything were to go right for this company, what could they achieve?' There are companies that could become the next Microsoft or Google," she said.
Li, who worked in Silicon Valley for a couple of years and received his master's degree in computer science from University of New York at Buffalo, formed the company with Eric Xu (徐勇). Although Xu no longer works at Baidu, he was alongside Li on Friday to watch the company's stock soar in its Wall Street debut.
Li, 36, ended the day with a personal stake worth US$920 million, but he said he won't let the sudden wealth affect him. He can't sell any of his stock for two years under restrictions imposed as part of the IPO.
"My passion is search and changing the lives of ordinary people with search," he said.
Baidu has awarded stock options to its 700 employees in China, giving them a slice of the wealth created by the IPO. Most of the workers can start holdings in six months.
Comments will be moderated. Keep comments relevant to the article. Remarks containing abusive and obscene language, personal attacks of any kind or promotion will be removed and the user banned. Final decision will be at the discretion of the Taipei Times.