Apple's mini player sells out at Taiwan debut
TINY BITE Only 100 units of the iPod mini were available yesterday. One company official said more would be coming but couldn't say just when
Music lovers and high-tech geeks yesterday sweated in the scorching sun to snap up their long-awaited iPod minis as Apple Computer Inc offered the first of the tiny music players available in this country -- all 100 of them.
"All 100 units sold out in half an hour," an Apple Taiwan public relations official said yesterday. "We are planning to ship more to Tai-wan, hopefully as soon as possible."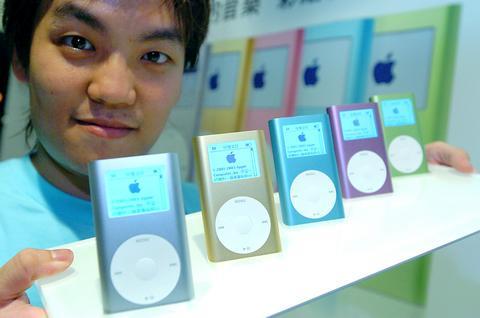 Apple Taiwan sales executive Stego Zhang holds a tray of the new mini iPod yesterday in Taipei. The mini music player comes in five colors, has 4 gigabytes of memory and is priced at NT$8,900. All 100 units put on sale yesterday sold out in half an hour. There is no word on when the next shipment will arrive.
PHOTO: GEORGE TSORNG, TAIPEI TIMES
The iPod mini is the world's smallest portable music player. It has a 4 gigabyte(GB)-capacity, weighs just 103g and can hold up to 1,000 CD-quality songs.
"It's an ideal combination of ultra-portable design, style, song capacity, ease-of-use and audio performance," Yeo Eng Yiong (楊應勇), Apple's product marketing manager for Asia-Pacific, said at a press conference before the sale.
"We believe the product will sell like hot cakes in this market? it's not merely a music player, but a fashion statement," Yeo said.
The iPod mini was announced in January and went on the market in the US in February.
Yeo said the mini has quickly sold out everywhere because of overwhelming demand.
He refused to reveal exact sales numbers, saying only that as of June, Apple had sold over 2 million units of the iPod series since the portable player was launched in October 2001.
While local consumers prefer the lower-priced flash-based MP3 players, which have a smaller capacity, Yeo said the iPod mini was aimed at high-end users who look for better quality and are willing to pay a bit more.
He said the iPod mini, priced at NT$8,900, could also attract people who like the iPod but turned off by its price. The iPod sells for more than NT$10,000.
IPod owner George Lien (連智奇) said the iPod series outperforms other players in the market in terms of outlook, interface and functions.
"I think the mini version will be a hit," he said.
For example, users need not input song titles one by one when uploading music files from CDs, while other players require users to carry out the procedure on a computer, Lien said.
IPod user Hong Shou-ming (洪壽明), however, said there is room for improvement.
Hong said although the battery life of iPod is billed at eight hours, the actual charge is about five and a half hours and the battery dies after it has been used for a year.
Targeting the iPod's battery limitations, mobile audio maker Rio Carbon is set to take on the mini with a device that weighs less, and offers a 5GB-capacity and has a 20-hour battery.
Rio Carbon's player will be available later this month and will be priced the same as the mini.
Yeo said Apple plans to launch its iTunes Music Store in this country and other Asian markets, but hasn't set a timetable because of copyright concerns.
Taiwan's MP3 music market is dominated by file-sharing Web sites such as kuro.com.tw (飛行網) and Ezpeer.com.tw.
Both sites have been sued by the International Federation of the Phonographic Industry (IFPI).
Meanwhile, legal distributors such as iBIZ Entertainment Technology Corp (艾比茲娛樂科技), Hinet and BenQ Corp (明基電通) see little room for growth.
Also see story:
Comments will be moderated. Keep comments relevant to the article. Remarks containing abusive and obscene language, personal attacks of any kind or promotion will be removed and the user banned. Final decision will be at the discretion of the Taipei Times.