Chi Mei boss holds good China cards
PLASTICS The `People's Daily' attacked the tycoon for allegedly supporting independence, but even in retirement he could take his businesses out of China
For the past five decades, tycoon Hsu Wen-long (許文龍) has been one of the nation's most prominent businesspeople, but when he retired last month he probably never imagined that he would get involved in a political skirmish that bears implications for all Taiwanese who do business in China.
Hsu, 76, founder of Chi Mei Corp (奇美實業), which is known for being the world's largest manufacturer of the plastics product ABS -- acrylonitrile butadiene styrene -- retired from the company last month. This month he will resign his chairmanship of subsidiary Chi Mei Optoelectronics Corp (奇美電子).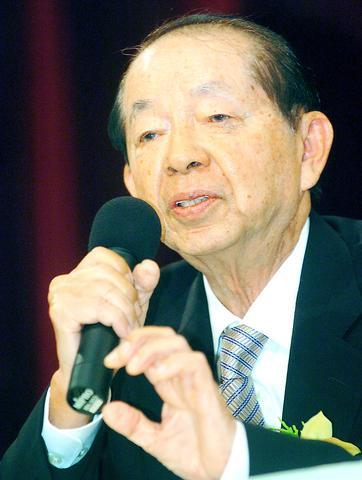 Chi Mei Corp Chairman Hsu Wen-lung gives a talk on how Taiwan-based companies can position themselves to enter the global market at a seminar held by the Taiwan Economy and Industry Association on April 22 in Taipei.
TAIPEI TIMES FILE PHOTO
But Hsu's retirement has not stopped him from being attacked by the Chinese authorities, who have declared him unwelcome because of what they see as his pro-independence position -- as indicated in People's Daily on May 31.
The paper said that Hsu's resignation was merely an attempt on his part to make it easier for Chi Mei to do business in China.
"I think as a businessman, Hsu will do what he must to reduce political intervention in his business," said Huang Yueh-hung (黃越宏), author of a biography of Hsu, Concept -- Hsu Wen-long and his Chi Mei empire (觀念 -- 許文龍和他的奇美王國).
"But I have to say that Hsu is pro-Taiwan, not pro-independence, as China has accused him of being," Huang said.
Born in Tainan in 1928 during the Japanese colonial period, Hsu's life is like a history of modern Taiwan.
Though most Taiwanese loathed Japan's imperialist rule, Hsu reminisces -- as do many who remember that time, such as Hsu's friend, former president Lee Teng-hui (李登輝) -- about the clean government and modern infrastructure that the Japanese brought.
In contrast, the Chinese Nationalist Party (KMT) disappointed Hsu after it took power with its heavyhanded tactics, such as the butchery of the 228 Incident, and with its corruption.
"Hsu always draws a clear line between business and politics," said Vivian Tsai (蔡玉真), an editor at the magazine Win-Win Weekly, who is close to Hsu.
Hsu first got involved in politics by serving as a national advisor to Lee, and came under fire from Bei-
jing when he threw his support behind Democratic Progressive Party presidential candidate Chen Shui-bian (陳水扁) in the 2000 race.
It was in 1996 that Hsu first expanded his plastics empire across the Taiwan Strait, building a petrochemicals plant in Zhenjiang, which produces 250,000 tonnes of ABS and 300,000 tonnes of polystyrene annually.
In a recent speech -- at the Taiwan Economy and Industry Association (台灣產經建研社), in April -- he suggested the government deregulate investment in China and use China as an economic colony. That remark infuriated Beijing.
Hsu explained that he meant the statement in a good way, meaning that China could benefit from Taiwanese investment just as Taiwan once benefitted from being Japan's economic colony.
Hsu's successor, Frank Liao (廖錦祥), has issued a statement saying that Chi Mei hopes to continue its investment projects in China despite the piece in the People's Daily.
"If Hsu is still in power, he is very likely to move his business to other countries, such as Vietnam, as he has told reporters before," Tsai said.
Along with the Zhenjiang plant, Chi Mei operates petrochemicals plants in Guangdong and Jiangsu.
"Hsu is known for exercising a flexible strategy -- if he can't make money in one place, he'll shift operations elsewhere," Tsai said.
"If he decides to leave the Chinese market, many countries will welcome him," Tsai said.
Comments will be moderated. Keep comments relevant to the article. Remarks containing abusive and obscene language, personal attacks of any kind or promotion will be removed and the user banned. Final decision will be at the discretion of the Taipei Times.