Snapple enters weight-loss market
BEVERAGE INDUSTRY Snapple-a-Day has 210 calories along with vitamins and minerals, including calcium, zinc, potassium and folic acid, the US company reports
Trying to take some of the public embarrassment out of dieting, Snapple on Thursday announced a new meal-replacement product that looks less like a weight-loss aid and more like, well, a Snapple. \nSnapple-a-Day, a fortified juice smoothie that will be on store shelves next month, is the beverage company's entry into the US$1-billion meal replacement business, which is dominated by Unilever's Slim Fast and includes products like Ensure and protein-laden powder drinks associated with the Atkins Diet. Snapple-a-Day has 210 calories -- 10 fewer than Slim Fast -- as well as vitamins and minerals, including calcium, zinc, potassium and folic acid. \nSnapple's drink may also represent the first wave of new products from soda companies that are targeted at consumers, particularly women ages 22 to 44, who worry as much about their waistlines as about flavor. The Coca-Cola Co is working on a whey-based drink called BeginIt and PepsiCo is said to be exploring the category as well, according to company spokesmen. \nSnapple's edge, according to Jack Belsito, the company's chief executive, is that it will not be marketed as a diet product. By packaging Snapple-a-Day in 11.5 ounce plastic bottles swathed in bright red, yellow and peach labeling and promising a brighter, more Snapple-like taste, the company hopes to remove the stigma associated with drinking frothy meal replacement drinks from stubby metal cans. \n"Very rarely do you actually see people drinking this product," Belsito said, referring to Slim-Fast. "It's usually consumed in some type of shroud of mystery. I don't want to be asked questions about `am I on a diet?' or `how many pounds did I lose?' It's not a conversation that I want to have at work." \nLike many of its beverage counterparts, Snapple's juice business has seen steady returns but extremely slow growth, analysts said. To stem declining market share for carbonated soft drinks and other core brands, beverage companies have been looking for new products. \n"To continue growing, they have to extend their product offerings," said John D. Sicher, the editor and publisher of Beverage Digest. "We've certainly seen that in the last few years with bottled water. Five or six years ago, neither Coke nor Pepsi sold bottled water in the US. Now they have the leading bottled water brands. That model will be duplicated in other beverage categories in the years to come." \nBut Snapple did not want to duplicate the chalky taste of some diet products. Meeting that challenge fell to the company's research scientists in the Flavor Lab, a suite of four laboratories located deep in the bowels of the company's headquarters in White Plains, New York. \nThe lab, which smells like a combination of apple, strawberry and citrus, is run by Smita Patel, the vice president of research and development and Snapple's most trusted palate. Patel, who has worked as a food scientist for 20 years on products like French's Dijon mustard and Schweppes' Cranberry Ginger Ale, took nearly a year to create Snapple-a-Day. \nTo avoid the appearance of simply copying Slim Fast, Patel decided early against using a chocolate or vanilla base for Snapple's new drink. Snapple's food scientists tried using whey, but abandoned it after they discovered that it had a pungent odor that was difficult to mask. They also decided against soy milk because it tasted like soy beans, and ruled out skim milk powder, which when mixed with flavors smelled acrid and overcooked. After two months, Patel chose soy protein for its ability to maintain a relatively neutral taste. The company also decided to add some carbohydrates and soluble fiber that would help to make consumers feel full. \nBut with so many minerals then packed into the drink, the biggest difficulty, according to Patel, was finding the right flavors to counteract the "liquid vitamins" taste of the early prototypes. The peach flavored drink and its tropical blend counterparts proved fairly easy to formulate, but the strawberry banana version was particularly challenging. Patel said her team mixed at least 180 combinations to create a product that both smelled and tasted like strawberries mixed with bananas. \nJust about right \n"We have to identify the right levels. It's 0.02 percent or 0.01 percent in each bottle," said Patel, who is credited with some some of Snapple's best-selling products, including Peach Iced Tea, Snapple Apple juice and WhipperSnapple. "If you overdo it, it's perfumy and can cause a burn. If you don't have enough flavor, then you wonder what's in the product." \nOn Monday, even as mass quantities were already being produced in factories. the scientists were still mixing new concoctions. \n"It's just constant monitoring week-to-week, day-to-day; especially if it's a new product we kind of baby it to check to make sure nothing is going off," said Patel. \nOnce the base and flavors were settled upon, Patel's team conducted stability tests to see how the product would hold up in a variety of storage conditions. To stimulate a beverage warehouse on a hot summer day in Georgia, the scientists put their new beverages into an oven. They also checked Snapple-a-Day's performance over six-month long periods at room temperatures and in the refrigerator. The final test, however, occurred when Patel poured herself a glass of Snapple-a-Day on ice. \nSnapple-a-Day will sell for US$1.59 each, which is more expensive than Slim-Fast, but unlike a lot of diet products it will be available in single servings in corner stores. \nBut some nutritionists warn that consumers looking to lose weight or eat healthier foods should be wary of any meal substitute. \n"This is a vitamin supplemented soft drink," said Marion Nestle, the chairwoman of the Department of Food Studies at New York University and the author of Food Politics. "It's the equivalent of a candy bar. It's got an ounce of sugars in it. You bet it's not for dieters. It's got 200 calories of which most of them come from sugars. If I were going to advise someone to diet, the first thing I would do would be to tell them to cut out stuff like this."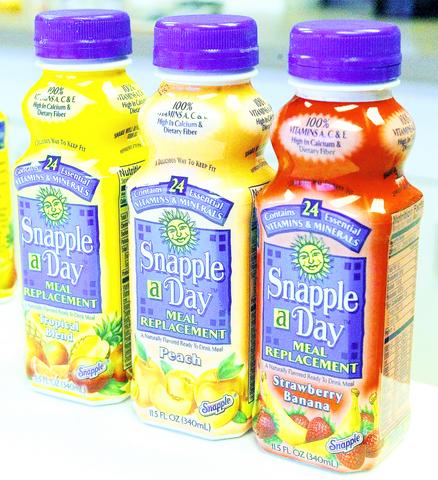 Snapple announced a new meal-replacement product last week. Snapple-a-Day, a fortified juice smoothie that will be on store shelves in the US next month, is the beverage company's entry into the US$1-billion meal replacement business.
PHOTO: NY TIMES
Comments will be moderated. Keep comments relevant to the article. Remarks containing abusive and obscene language, personal attacks of any kind or promotion will be removed and the user banned. Final decision will be at the discretion of the Taipei Times.