IMF warns of 'downside risks' in Asia
CAUTION The IMF raised its growth forecast for Asia this year to 7.5 percent, up from 7 percent, but warned of 'external demand shocks' if Europe's recovery hits a snag
The IMF yesterday raised its forecast for Asian economies this year, but warned that "downside risks" had intensified for the region following financial turmoil in the eurozone area.
The Chinese economy should expand 10.5 percent following a strong rebound in exports and resilient domestic demand, the fund said, revising upwards its April forecast of 10 percent.
India's growth this year was revised higher to 9.4 percent from 8.8 percent as robust corporate profits and favorable financing conditions fuel investment.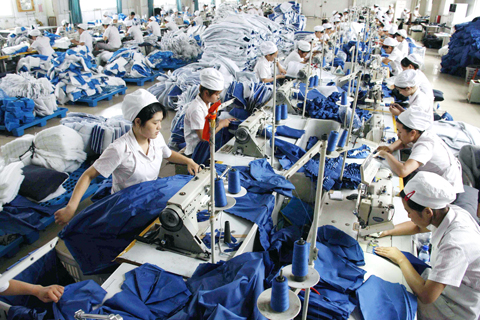 Employees work at a garment factory in Huaibei, Anhui Province, yesterday. The IMF raised its GDP growth forecast for China this year to 10.5 percent.
PHOTO: REUTERS
With the upward revisions for the world's two most populous countries, GDP growth for the whole of Asia this year was revised up to 7.5 percent from 7 percent in April.
For next year, however, when stimulus programs are expected to be withdrawn in several countries, Asia's growth is expected to settle to "a more moderate but also more sustainable rate" of 6.8 percent, the IMF said in a report.
It said China's growth could slow to about 9.6 percent next year, as further measures are taken to slow credit growth and maintain financial stability.
IMF economic counselor Olivier Blanchard told a press conference in Hong Kong that China was moving in the right direction by encouraging domestic consumption and allowing greater latitude for its currency.
"China's decision to boost internal demand and allow more flexibility for the yuan is very welcome," he said. "Its shift from investment to domestic consumption is very desirable."
Jose Vinals, the fund's financial counselor, said China's forecast slower growth next year was mainly due to a general slowdown in the macroeconomic environment.
The fund expects India's growth to slow to 8.4 percent next year.
In Japan, growth is now expected to reach 2.4 percent this year because of stronger-than-expected exports during the first half, before easing to about 1.8 percent next year as fiscal stimulus gradually tapers off.
The five key Southeast Asian economies of Indonesia, Malaysia, the Philippines, Thailand and Vietnam are likely to grow by an average of 6.4 percent this year and 5.5 percent next year.
Following warnings by the fund earlier this year about the formation of asset bubbles in Asia, such problems in the market had eased, Vinals said.
But the IMF warned that any stalling in the European recovery could affect Asia through both trade and financial channels, even though the region has only limited direct financial linkages to the most vulnerable eurozone economies.
"Many Asian economies [especially the newly industrialized economies and ASEAN economies] are highly dependent on external demand, and their export exposure to Europe is at least as large as their export exposure to the United States," the report said.
However, in the event of "external demand shocks," large economies such as China, India and Indonesia could provide a cushion to growth, it said.
The report said that significant contagion effects from a Europe-wide credit problem could hit bank funding and corporate financing, especially in those regional economies more dependent on foreign currency financing.
However, in the event of such contagion, Asian central banks could swiftly redeploy tested instruments, such as a US dollar liquidity swap facility, to overcome market seizures.
"Many regional economies also have room for further policy maneuver and could delay the planned withdrawal of monetary and fiscal stimulus in order to mitigate adverse spillovers to the real economy," it said.
Comments will be moderated. Keep comments relevant to the article. Remarks containing abusive and obscene language, personal attacks of any kind or promotion will be removed and the user banned. Final decision will be at the discretion of the Taipei Times.