Commodity markets rally to end 'rollercoaster year'
Commodity prices rallied last year on keen demand and signs of global economic recovery, with oil soaring and gold striking record levels, while copper and sugar surged.
Many raw materials also rose this week in thin trade ahead of the New Year holiday weekend, with investors winding down for celebrations to usher in the year.
"2009 has been a rollercoaster ride for most commodity markets, with copper, sugar and New York crude performing especially well," VTB Capital commodities analyst Andrey Kryuchenkov said. "Refined copper and raw sugar were certainly the outstanding gainers as both more than doubled from lows at the start of the year."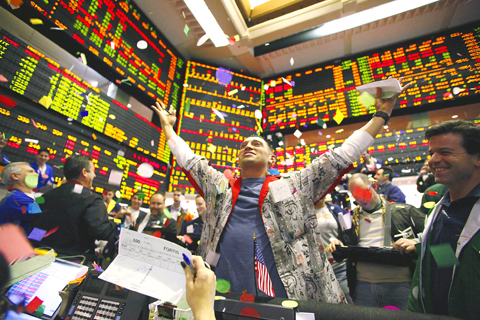 Jason Kelly celebrates as confetti falls at the close of trading in the Wheat Futures trading pit at the CME Group Inc's Chicago Board of Trade on the last trading day of the year in Chicago, Illinois, on Thursday.
PHOTO: BLOOMBERG
"China's unprecedented financial stimulus had certainly benefited raw materials linked to the expanding infrastructure and industrial growth," he added. "Demand [from leading industrialized economies] has yet to show significant and sustained signs of an economy recovery. However, end-of-year data, especially from the United States, was fairly encouraging."
Back in 2008, crude oil and base metals had forged historic peaks on supply woes, before tumbling as the global financial crisis and recession sparked demand worries.
OIL: Crude oil leapt this year by around 80 percent as traders were heartened by evidence that the battered global economy was on the mend, with the eurozone, Japan and the US escaping a fierce recession.
The worldwide economic downturn had slammed demand for energy and sent oil prices plunging to around US$33 toward the end of 2008.
New York's main futures contract, light sweet crude for delivery in February, crept US$0.08 higher to close at US$79.36 a barrel.
London's Brent North Sea crude for February fell US$0.10 to settle at US$77.93.
PRECIOUS METALS: Gold prices sparkled this year, scoring a record peak of US$1,226.56 per ounce at the start of last month, before tailing off as many traders cashed in gains.
The glamorous metal has smashed records on the back of inflationary fears and increasing moves by central banks to diversify assets away from the US dollar, which weakened against the European single currency.
However, by Thursday on the London Bullion Market, gold stood at US$1,104 an ounce, down from US$1,104.50 the previous Thursday.
BASE METALS: Copper soared this week, striking a new multi-month peak, taking its annual gain to more than 140 percent as traders fretted over possible strikes in key producer Chile.
Copper hit US$7,423.75 per tonne on Thursday, reaching the highest level since September 2008.
SUGAR: Sugar prices, which have more than doubled this year, finished the year in style to strike another 28-year pinnacle above £700 on the back of tight supplies, traders said.
By Thursday on the New York Board of Trade (NYBOT), the price of unrefined sugar for March rose to 27.24 US cents a pound from 26.76 cents the previous Thursday.
On LIFFE, London's futures exchange, the price of a tonne of white sugar for delivery in March climbed to £706.30 from £694.50.
Comments will be moderated. Keep comments relevant to the article. Remarks containing abusive and obscene language, personal attacks of any kind or promotion will be removed and the user banned. Final decision will be at the discretion of the Taipei Times.