Coca-Cola, PepsiCo rank among Beijing polluters
The Beijing plants of US soft drink giants Coca-Cola and PepsiCo have been listed as among the top 12 factories causing major water pollution in China's capital, the city government has announced.
The list issued by the Beijing Development and Reform Commission, the capital's economic planning agency, was published along with the top 15 energy users in the capital, which included the Beijing Benz-DaimlerChrysler plant.
China has set a goal of reducing average energy consumption by 20 percent from 2006 to next year. This means it has to cut average consumption by 4 percent annually over the five-year period — a target it has so far failed to meet.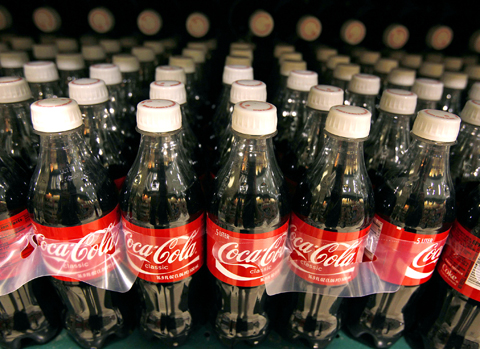 Bottles of Coca-Cola are pictured on a grocery store shelf in Arlington, Virginia, on Monday.
PHOTO: REUTERS
"[This year] is a key year for fulfilling our energy-saving and pollution-reduction goals," the commission said in a statement on its Web site, cited by the Beijing News yesterday.
The 27 entities will be subject to increased supervision and asked to submit plans to reduce energy use and pollution emissions, the commission said.
PepsiCo-Beijing and Coca-Cola-Beijing refused immediate comment on the issue yesterday.
The Beijing News quoted Beijing Benz-DaimlerChrysler as saying it would this year "step up the scope of reducing energy use and emissions, saving energy and treating waste water and waste through technological upgrading."
The Tsingtao brewery in Beijing, top juice maker Huiyuan and several major Chinese dairy producers were also included on the list of major water polluters.
Top energy users were the Capital Iron and Steel Corporation and the US chemical company Praxair.
Comments will be moderated. Keep comments relevant to the article. Remarks containing abusive and obscene language, personal attacks of any kind or promotion will be removed and the user banned. Final decision will be at the discretion of the Taipei Times.