Investors betting on Vietnam's China Beach
Investors are lining up for a piece of Vietnam's "China Beach," once a wartime rest and recreation spot for US soldiers, which industry players say could become a tourism hotspot to rival Bali or Phuket.
Stretching about 30km from the mountain-fringed central Vietnam city of Danang to the heritage town of Hoi An, the white sand beach — known locally by other names — has been relatively undeveloped despite its beauty.
But foreign and local investors have staked their claims, walling off areas of the beach in preparation for development, even though some sites remain little more than sand-blown scrub beside the glistening sea.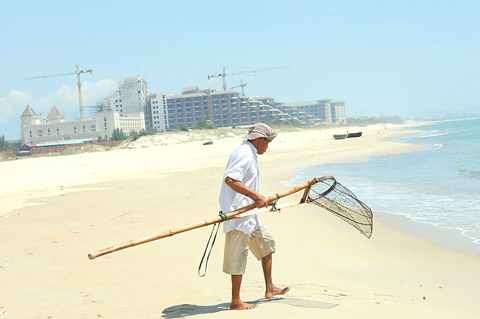 A fisherman walks near a resort under construction at Vietnam's China Beach on June 24. Investors are hoping China Beach will become a tourism hotspot to rival Thailand's Phuket.
PHOTO: AFP
"I think our beach is better than Bali," said Nguyen Duc Quynh, executive assistant manager of the Furama Resort Danang, which opened 12 years ago as the beach's lone five-star resort and is preparing to build 134 adjacent residential villas with private pools.
"Actually we wanted to start at the beginning of the year," he said. "The real estate market was not there. Now, I think the market's already back."
Tourism and investment officials in Danang list several other developments under way along the beach, despite a global economic and financial crisis that affected some projects and reduced the number of overseas tourists.
They say a shortage of direct international flights to the area and insufficient promotion of its attractions have also hindered development, but express faith in its longer-term potential.
"Over the next 10 years we'll fully develop that strip," said Truong Hao, vice director of the Danang Investment Promotion Center. "We have to go step by step."
Some developers are not waiting.
Vietnam's Indochina Land, the real estate arm of financial services firm Indochina Capital, began on April 30 selling condominiums and villas at its Hyatt Regency Danang Residences on the beach.
Major construction had not yet begun, but by late last month more than 60 percent of units were sold, mostly to local investors, said Phan Thi Y Nhi, a sales executive for Savills, the agent.
"All the project will be finished in 2011," she said at a model condominium unit on the site, where foundation stones were piled on the beach.
A 75m² apartment was selling for US$180,000, she said, adding that a Hyatt hotel is to be part of the development.
Indochina Land is also developing the Montgomerie Links Vietnam golf course and villas further along the strip towards Hoi An, not far from a similar project by Vietnamese asset management and real estate firm VinaCapital.
VinaCapital's golf course, designed by Greg Norman, is taking shape on one side of the road, while on the beach side a sign promotes The Ocean Villas, starting from US$320,000.
Even before the formal launch of the project next month, about 20 villas were reserved by Vietnamese buyers over a three-week period, said Nguyen Ngoc Thuyen, Savills' project manager.
He foresees Hanoi and Ho Chi Minh City residents buying the villas as second homes because "it's 10 times cheaper than Hanoi ... It's a good investment."
Thuyen also touts the area's appeal for tourists, saying: "It's safer for you to come here than Thailand."
JW Marriott is to manage a hotel on the site, with construction set to begin next year after bank funding is secured, he said.
The company plans a second hotel and golf course over a 10-year period as the area aims to compete with regional tourist centers like Indonesia's Bali and Phuket in Thailand, Thuyen said, showing a model of the resort.
"Over 10 years the project is feasible," he said.
Along with golf, a casino is coming to China Beach, another developer said.
A joint venture between US-based Silver Shores, headed by a native of China, and Hoangdat of Hanoi, is backing the casino-hotel project, said Nguyen Truong Chung, its administration and foreign manager.
The casino operator has not been finalized, but Crowne Plaza will manage the hotel, Chung said at the site, where signs are written in Chinese and a grand-looking central structure is taking shape.
Chung said his project would open by the end of this year and in the next few years "you will see a change along this coast ... it will become a new urban area for the city."
For the moment, much of the beach road south of Danang still has the character of a village, with small homes and shops in faded pastel colors, Chinese-style pagodas and a couple of down-market local hostels.
Across from the Crowne Plaza development a long, dirty wall shields a helicopter base abandoned decades ago by US troops.
In the first half of the year, Danang received an estimated 600,000 tourists, said Nguyen Phuc Linh, deputy director of the local culture, sports and tourism department.
Domestic arrivals were steady compared with the same period last year, but foreign visitors, who numbered about 200,000, were down 17 percent during the global financial crisis, he said.
The "still limited" number of tourists is a factor behind the relatively low level of resort development, said Hao, the investment official.
With only two direct international flights, from Bangkok and Singapore, the Danang area has also been somewhat isolated, although a charter service from Japan is expected to begin by the end of the year, Hao said.
He called for more joint tourism promotions with nearby Quang Nam Province — home to UNESCO World Heritage sites in Hoi An and My Son — and neighboring Hue, the former imperial city and another World Heritage destination.
A combined effort can help the area develop "better than Bali," he said.
Comments will be moderated. Keep comments relevant to the article. Remarks containing abusive and obscene language, personal attacks of any kind or promotion will be removed and the user banned. Final decision will be at the discretion of the Taipei Times.