EUROPE: Europe surges as money markets unfreeze
European stocks rallied, sending the Dow Jones STOXX 600 Index to its biggest weekly gain since 2001, as money markets began to unfreeze and central banks from the US to Japan cut interest rates to revive economic growth.
Standard Chartered PLC, UBS AG and Lloyds TSB Group PLC climbed at least 19 percent as short-term borrowing costs between banks declined in Europe, the US and Asia. Xstrata PLC surged 36 percent and Total SA climbed 19 percent after rate reductions from the Federal Reserve, Bank of Japan and the People? Bank of China boosted commodities and eased concern the global economy is headed for a prolonged recession.
?hat governments did diminished the systemic risk,?said Lionel Heurtin, a Paris-based money manager at Ofi Asset Management, which oversees about US$22 billion. ?aluations are low. Stocks are interesting if you buy for the long term.?br />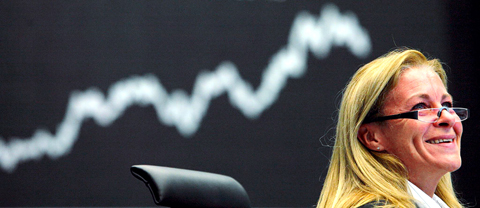 A broker smiles at the Frankfurt Stock Exchange in Frankfurt Main, Germany, on Friday. Germany's DAX advanced 2.44 percent on Friday to end the week at 4,987.97.
PHOTO: EPA
Europe? STOXX 600 advanced 12 percent to 222.07 this week, the biggest gain since September 2001. The rally pared the measure? decline last month to 13 percent, still the steepest monthly drop since September 2002.
The STOXX 600 was on Monday valued at 7.9 times its companies?reported earnings, the cheapest level since at least January 2002, Bloomberg data show.
The European equity benchmark has tumbled 39 percent this year, poised for a record annual drop, as a jump in US mortgage defaults saddled global banks with more than US$684 billion of losses and caused credit markets to lock up.
National benchmark indexes climbed this week in all 18 western European markets except Iceland. Germany? DAX rallied 16 percent, led by a 137 percent surge in Volkswagen AG. France? CAC 40 advanced 9.2 percent, while the UK? FTSE 100 increased 13 percent.
Standard Chartered, the UK? third-largest bank, climbed 34 計ercent and UBS, the biggest bank in Switzerland, added 24 percent. Lloyds TSB, the UK lender that agreed to buy HBOS PLC, rose 19 percent.
The cost of borrowing dollars for three months in London fell 49 basis points this week to 3.03 percent, capping the first monthly decline since May, according to the British Bankers?Association. Rates on comparable euro loans dropped 16 basis points to 4.76 percent, while the three-month rate for US dollar loans in Singapore slid 43 basis points to 3.09 percent.
The decline in rates signals as much as US$3 trillion of emergency funds provided by governments to alleviate the credit crisis may be working.
The Bank of Japan cut its benchmark overnight interest rate this week by 20 basis points to 0.3 percent, while the Fed lowered its target rate 50 basis points to 1 percent.
The Fed also began buying commercial paper from companies and agreed to pump US$120 billion into Brazil, Mexico, South Korea and Singapore to help alleviate demand for dollar-based funding.
European Central Bank policy makers meet on Thursday, when they will probably reduce the region? main refinancing rate a half point to 3.25 percent, a Bloomberg survey of economists showed.
Interest-rate cuts this week helped fuel a rebound in commodities, sending the Reuters/Jefferies CRB Index of 19 raw materials to a 2.8 percent gain, the first advance in five weeks.
Xstrata, the world? fourth-biggest nickel producer, advanced 36 percent. Total, Europe? third-largest oil company, climbed 19 percent.
Volkswagen AG surged 137 percent after Porsche SE said it may increase its stake in Europe? biggest carmaker to 75 percent, prompting traders who had wagered on declines in Volkswagen stock to buy back shares to close out their bets. Porsche added 51 percent on speculation the sports-car maker will profit from Volkswagen? surge.
Comments will be moderated. Keep comments relevant to the article. Remarks containing abusive and obscene language, personal attacks of any kind or promotion will be removed and the user banned. Final decision will be at the discretion of the Taipei Times.