Citigroup, Wells may split Wachovia
Division A report said Citigroup would get Wachovia's branches in the northeast and mid-Atlantic regions, while Wells Fargo would take the southeast and California
Prodded by US regulators, Citigroup Inc and Wells Fargo & Co may divide up Wachovia Corp to end a takeover battle that's disrupting a federal rescue of the ailing North Carolina bank, the Wall Street Journal (WSJ) reported.
Officials from the US Federal Reserve and Treasury are involved in the talks, while executives of Charlotte-based Wachovia have been excluded, the WSJ reported, citing people familiar with the situation.
Citigroup would get Wachovia's branches in the northeast and mid-Atlantic regions, while Wells Fargo would take the southeast and California, the newspaper reported. Asset-management and brokerage units would go to Wells Fargo.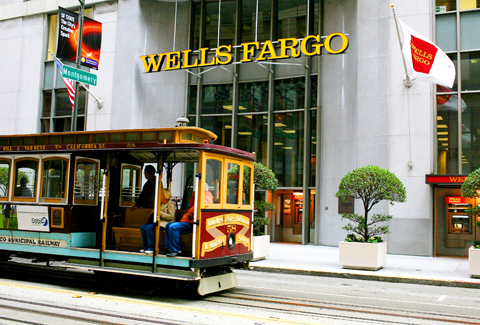 A cable car passes by a Wells Fargo bank branch on Friday in San Francisco, California. Wells, which is bidding for Wachovia, may split up the target firm with Citigroup, a Wall Street Journal report said yesterday.
PHOTO: AFP
BIDS
Citigroup, the biggest US bank by assets, is bidding for Wachovia while trying to rebuild after US$61 billion of losses tied to the collapse of mortgage markets. The bank wants to buy parts of Wachovia for about US$2.16 billion, while Wells Fargo is bidding about US$15 billion for the whole company. Wachovia said Wells Fargo's bid is better for investors, workers and taxpayers because, unlike Citigroup, it doesn't rely on government aid.
Under the split being discussed now, neither New York-based Citigroup nor San Francisco-base Wells Fargo would get US financial assistance, the WSJ said.
The two suitors have spent the weekend wrangling in state and federal court over Wachovia, with Citigroup winning a New York state ruling on Saturday that said it had the exclusive right to negotiate a takeover until Friday.
That ruling was overturned on appeal yesterday, leaving the original expiration date yesterday in place.
"We are pleased that the unfounded order entered yesterday has been vacated," a Wells Fargo statement said. "Wells Fargo will continue working toward the completion of its firm, binding merger agreement with Wachovia."
TAKEOVER TUSSLE
Separately, US District Judge John Koeltl put off ruling on whether Wells Fargo may proceed with its takeover bid. A hearing is set for today in which another federal judge will be asked to decide the case.
The takeover battle began on Sept. 29 when Citigroup made its bid with backing from the Federal Deposit Insurance Corp to rescue Wachovia from declaring bankruptcy, documents provided by Citigroup showed.
Wells Fargo, which said it was unable to complete a competing bid in time to be considered, returned with its higher offer later in the week, which Wachovia accepted.
Citigroup said this violated a signed agreement not to solicit new offers. New York State Supreme Court Justice Charles Ramos sided with Citigroup, and he extended the exclusive right to negotiate from yesterday to Friday, when he scheduled a hearing on the merits.
FEDERAL CASE
Wachovia took the case to federal court, and at the emergency hearing yesterday, David Boies, a lawyer for Wachovia, asked Koeltl to decide whether language in the US$700 billion federal bailout law for the banking industry enacted last week permits Wells Fargo to make a new bid.
Koeltl said it "appears" Wells Fargo is correct, adding that a judge who is to be permanently assigned to the case this week may reach a different conclusion.
'PLEASED'
Wachovia spokeswoman Christy Phillips-Brown said the bank was "pleased" that the judge granted its request for a quick resolution, while Citigroup's Shannon Bell said the company was "very pleased that Wachovia's motions for emergency injunctive relief and a temporary restraining order were denied."
Comments will be moderated. Keep comments relevant to the article. Remarks containing abusive and obscene language, personal attacks of any kind or promotion will be removed and the user banned. Final decision will be at the discretion of the Taipei Times.