Capital to return to Asia: ADB official
LARGE INFLOWS EXPECTED The Asian Development Bank expects the return of capital flows will help Asian nations to finance investments and see currencies rise
Once the global credit crunch eases, Asia will see the return of the large capital inflows which put the squeeze on their economies, a senior Asian Development Bank (ADB) official said on Saturday.
"We can expect massive capital inflows into Asia once financial stability is restored," Masahiro Kawai, the bank's head of regional economic integration, said at a the ADB's annual meeting in Madrid.
Global financial markets were still in the middle of the credit crunch that emerged from the US subprime crisis, but confidence will be restored in six to 12 months, he said.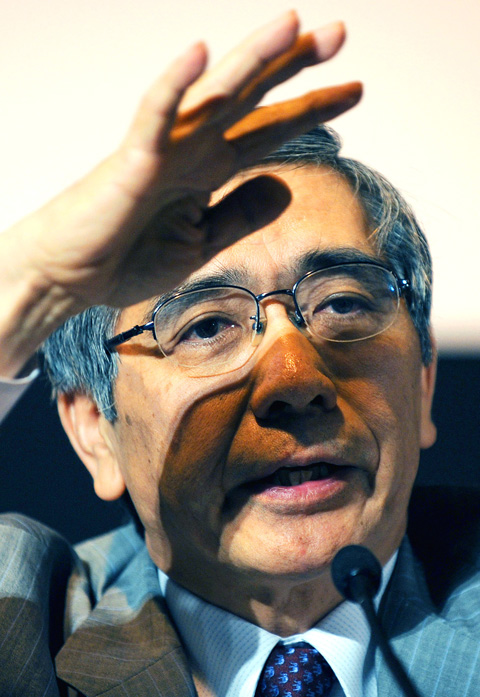 Haruhiko Kuroda, president of the Asian Development Bank, gestures during a media briefing on the first day of the bank's 41st annual board of governors meeting in Madrid on Saturday.
PHOTO: AFP
"And then where will they invest? Maybe not in the US because we expect the US economy to continue to stagnate for several quarters ... it will be in Asia," said Kawai, a special advisor to the ADB's president.
While the return of capital flows would help Asian nations finance investment, Kawai warned that "this may not be all good" as it also could erode competitiveness.
Before the start of the credit crunch, many Asian nations saw their currencies rise as low interest rates in countries such as Japan and Switzerland encouraged investors to borrow cheaply there to invest in fast-growing developing economies.
Regional currencies such as the Thai baht, Indonesian rupiah, Singaporean dollar and Philippine peso have all appreciated sharply against the dollar recently, making life tougher for exporters in the region.
The issue dominated the ADB's last annual meeting held in Japan last May.
The president of the Manila-based lender, Haruhiko Kuroda, then called on all Asian nations to step up their financial cooperation to cope with the large capital inflows.
Comments will be moderated. Keep comments relevant to the article. Remarks containing abusive and obscene language, personal attacks of any kind or promotion will be removed and the user banned. Final decision will be at the discretion of the Taipei Times.