US art market is booming despite Wall Street turmoil
THE ART OF INVESTING Ian Peck of the art-finance firm Art Capital Group said he was optimistic and that his firm had seen a spike in loan applications to buy art
The US art market is booming despite turmoil in the financial sector, thanks in part to foreign buyers encouraged by a weak dollar.
The fall auction season was marked by robust prices across most categories, with postwar and contemporary works in particular doing very well. Several new records were set, generating billions of dollars for auction houses such as Sotheby's, contributing to solid earnings but also exposing auctioneers to volatility when sales did not go as well as expected.
Experts credit the weak dollar, expanding world wealth and new buyers from countries not previously associated with the art collecting community. Over the past five years, wealthy buyers from Russia, China, India and the Middle East have helped fuel the market.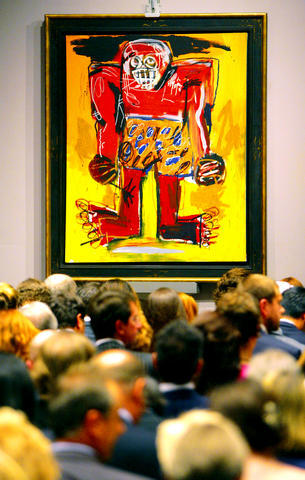 Jean-Michel Basquiat's Sugar Ray Robinson is displayed during a post-war and contemporary art auction at Christie's in New York on Nov. 13. The painting was sold for US$6.5 million.
PHOTO: AP
"This is the first time in a long time where we've had truly universal world wealth expand ... It's a relatively new precedent that there is so much wealth being created all over the world," said Michael Moses, co-founder of the Mei Moses All Art Index, which looks at the historical performance of art as an investment and asset class.
These buyers -- not affected by the uncertain US economy -- paid astronomical amounts for art. An Andy Warhol painting sold for more than US$71 million in a May auction that brought in a total of nearly US$385 million. A Matisse fetched more than US$33.6 million in a November sale that also took in nearly US$400 million. A limestone lion sculpture that measures 8.2cm hauled in US$57 million earlier this month.
Still, the art market has not been immune to turbulence.
Sotheby's suffered a lackluster sale of modern and impressionist works in November after Van Gogh's The Fields -- estimated at US$28 million to US$35 million -- failed to sell and many other works sold below their estimates. Sotheby's stock plunged 28 percent that day because of investors' fears that the company had overextended itself in guaranteeing sellers' reserve -- the price the house promises to pay if a certain item does not sell.
"If you try to sell stuff for twice what it's worth, the market's going to say no," said Ian Peck, chief executive of the art-finance firm Art Capital Group.
He said that he heard that the Van Gogh later sold privately for about US$20 million.
Peck says his blanket advice to clients is to take a wait-and-see attitude for the next year and see how the art market plays out.
"Our view is that within 12 months we'll know if this thing is getting worse, meaning if a recession occurs in the US market or not," Peck said.
Generally, the art market trails the Dow Jones Industrial Average and other market indices by about six to eight months, Peck said. And stocks have been volatile, with big swings up and down, since the summer.
But he was optimistic that the art market would ride out the crisis and noted that his firm, which is essentially a private banker for art buyers, has seen a spike in loan applications to buy art. And people at auction houses are not really seeing much of a downturn because of the problems on Wall Street.
"If you look around, particularly in New York, it seems like everyone's a billionaire and they don't seem to be affected terribly by this credit crunch," said David Nash, of Mitchell-Innes and Nash, a private New York art consultancy and gallery specializing in impressionist, modern and contemporary masters.
Works by such modern artists as Warhol and Mark Rothko, and living artists including Richard Prince and Damien Hirst, are especially popular. In oil producing countries like the United Arab Emirates, the appetite is for modern American works by such artists as Keith Haring, Jean-Michel Basquiat and Warhol, Peck said.
"The most money is chasing these modern and contemporary names, and that's just what's in fashion really," Peck said.
Buyers with new money from Russia and China have a "limitless appetite for Western art and objects. Prices in some cases have doubled or tripled in the past year," he said.
Overall, Peck estimates that the art market gained about 18 percent last year -- not a bad return at a time of turmoil in the stock market.
"My experience over the last month or so is that there is a lot of money around, a lot of people looking to buy things," Nash said. "There are not very many people who've said I'm not going to buy this now because I'm worried about the state of the economy."
Comments will be moderated. Keep comments relevant to the article. Remarks containing abusive and obscene language, personal attacks of any kind or promotion will be removed and the user banned. Final decision will be at the discretion of the Taipei Times.