Fed keeps US interest rates stable
The Federal Reserve on Tuesday kept US interest rates unchanged at 5.25 percent but it acknowledged concerns about tightening credit and a persistent housing market slump dogging the US economy.
The central bank has now kept US interest rates steady for just over 13 months. The 10 policymakers of the Federal Open Market Committee, led by Chairman Ben Bernanke, voted unanimously to keep rates unchanged.
In justifying its decision, the Fed said the world's largest economy seems likely to continue expanding at a "moderate" clip, and that its top priority remains the fight against inflationary threats.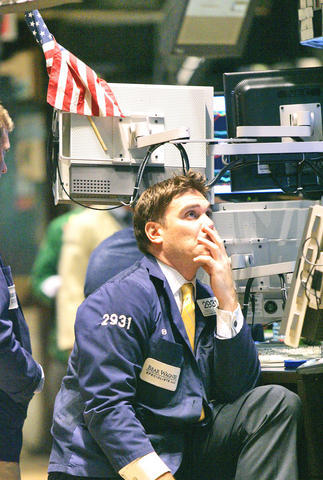 Bear Wagner specialist Robert Tuccillo watches screens at his post on the floor of the New York Stock Exchange on Tuesday. The market was clearly let down when the Fed's Open Market Committee issued an economic assessment that stated the central bank's predominant concern ''remains the risk that inflation will fail to moderate as expected.'' The Fed's assessment accompanied its decision to keep the nation's benchmark interest rate stable at 5.25 percent.
PHOTO: AP
But policymakers conceded there were dark clouds looming on the economic horizon.
"Financial markets have been volatile in recent weeks, credit conditions have become tighter for some households and businesses, and the housing correction is ongoing," the Fed said.
"Nevertheless, the economy seems likely to continue to expand at a moderate pace over coming quarters, supported by solid growth in employment and incomes and a robust global economy," the central bank said.
The Fed said future rate decisions would largely depend on the outlook for inflation and economic growth.
"Although the downside risks to growth have increased somewhat, the committee's predominant policy concern remains the risk that inflation will fail to moderate as expected," the central bank said.
Fears about mortgage failures and tightening credit have sparked volatile trading on US stock markets in the past week.
Recent reports have suggested the worst of the housing downturn, which has also afflicted mortgage lenders, may be far from over.
Some market watchers say a rate cut might not benefit the distressed housing market.
Central bankers typically cut interest rates when housing markets slow to aid homeowners, but persistent inflation concerns have stopped the Fed cutting rates in the past year.
Comments will be moderated. Keep comments relevant to the article. Remarks containing abusive and obscene language, personal attacks of any kind or promotion will be removed and the user banned. Final decision will be at the discretion of the Taipei Times.