Mobiles deliver finance products to the rural poor
BANKING ON THE MOVE The system that Jamii Bora uses in Kenya allows clients to receive disbursements make repayments, and do their banking electronically
In many developing countries, where bank branches and ATMs are few or nonexistent in rural areas, mobile phones may finally make financial services practical in such places, fitting in the palm of one's hand.
Mobile devices have the potential to take financial markets outside urban areas, allowing banks to provide services like loans and savings accounts in rural regions, said a report published last week by Vodafone and Nokia.
Microfinance institutions provide small loans and other services to the poor. But many businesses in the industry operate with outdated equipment like paper ledgers, complicating efforts to extend into areas where roads are inadequate and communication is expensive and unreliable.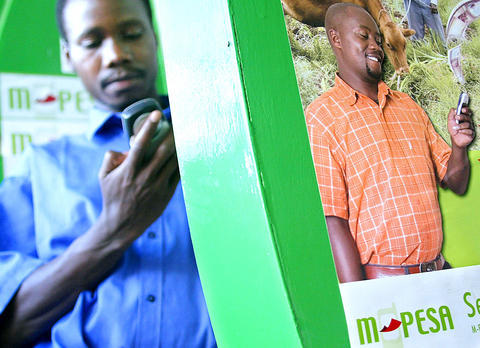 A man sends money through a mobile phone banking service called M-Pesa in Nairobi on April 23. M-Pesa is one of Kenya's mobile banking services that have rocketed in popularity for their low costs and convenience as users can send and receive money from remote areas through a mobile handset and at only a fraction of the cost of sending money through banks, courier and money transfer services.
PHOTO: AFP
When Vodafone began a pilot mobile phone project in Kenya, Nick Hughes, the company's head of international payments, said: "The idea was to reduce the cost of loan disbursal and recovery, but what we found was that customers were using it for person-to-person transfers."
As a result, the company introduced a commercial program in Kenya three months ago to make financial transactions possible by mobile phone. Customers have flocked to the service.
"We've passed the 175,000 mark and they're signing up at about 2,500 a day," Hughes said.
One reason Vodafone has experienced rapid growth in Kenya is that the formal banking sector reaches just 19 percent of the country's 36 million people, the report said. An additional 8 percent of Kenyans have access to financial services only through savings cooperatives and microfinance institutions.
The value of mobile technologies has benefited microlenders, too. Jamii Bora, the largest microfinance institution in Kenya, has more than 150,000 borrowers. The organization, whose name means "good families" in Swahili, began to experiment last year with mobile point-of-sale devices, magnetic-strip cards and fingerprint authentication to take its remote branches online.
"This year we rolled it out over the whole country," said Ingrid Munro, the founder and manager of Jamii Bora. "We have about 200 point-of-sale machines now, and we expect to expand."
Geraldine O'Keeffe, director of implementation and support at Craft Silicon, the company that adapted point-of-sale devices for Jamii Bora, said: "Technology is changing the field of microfinance."
The system that Jamii Bora uses allows clients in the countryside to make loan repayments, receive disbursements and do other business electronically. Once clients log in with a fingertip, authenticating their identity, they are connected to a central database in Nairobi.
In a system similar to the one Vodafone has set up, cash is paid and received through loan officers or sales agents in gas stations or shops, which settle their accounts with Jamii Bora.
"This is the most inexpensive way of being linked," Munro said. "Every loan officer and man on a bicycle is online with our central server in Nairobi. And at the end of each day, we know the cash position of each branch."
O'Keeffe said she had seen other attempts to improve microfinance technology fail because of the cost of communications. But with the advent in Kenya of GPRS going online has become "infinitely cheaper," she said.
"To computerize all rural branches," she said, "is a massive project and a huge cost. So what Jamii Bora did instead was put the point-of-sale in the branches, and leapfrogged the need to computerize."
Craft Silicon expects to help Jamii Bora set up 700 more terminals in the next two months.
The technology has allowed Jamii Bora to centralize operations and introduce a transparent accounting system to administer the loans and other services it provides, like health insurance. In doing so, the company said, it has increased efficiency and reduced the risk of fraud. If that means reducing its operating costs, making the organization more sustainable, Jamii Bora said it could lower the size of its average loan and still break even.
"This technology has created so much excitement," Munro said. "By being on the cutting edge of technology, we have the capacity of reaching the poor and remaining financially viable. What many organizations do is raise the interest rate. We refuse to abandon the poor. Actually, we are the poor -- all our staff are recruited from within our membership."
Comments will be moderated. Keep comments relevant to the article. Remarks containing abusive and obscene language, personal attacks of any kind or promotion will be removed and the user banned. Final decision will be at the discretion of the Taipei Times.