Hertz adds hybrids to rental fleet
GOING GREEN Analyst Brian Chee said the sale offers Toyota a chance to showcase the Prius, as well as giving potential buyers a chance to decide if a hybrid is for them
The increased demand for "green" vehicles is spilling over to the rental car counter, where many more drivers will soon be able to choose a hybrid vehicle.
Hertz Global Holdings Inc said on Thursday it will spend US$68 million to add 3,400 Toyota Prius hybrids to its fleets by next year. Avis Budget Group Inc also said this week it plans to make 1,000 hybrid Prius vehicles available for rent as early as next week.
Brian Chee, an automotive analyst for Autobytel.com's soon to be launched Web site MyRide.com, said that even with the fleet expansions, hybrid vehicles still represent a small part of rental car fleets.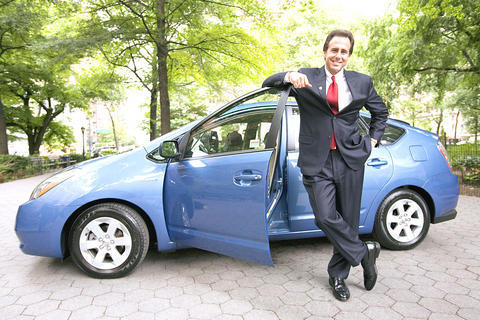 Hertz chairman and chief executive Mark Frissora poses with a Toyota Prius hybrid car in New York on Thursday.
PHOTO: AP
"This is a first step," Chee said. "It'll be interesting to see if the rental car companies continue this. Like other companies, they're making a `green' statement, and this is a good way to do it."
By replacing 1,000 of its ordinary cars with the gas-electric Prius models, Hertz said it will reduce carbon dioxide emissions by an estimated 2,700 tonnes per year.
"Today highlights the next step in what is already a multiyear effort by Hertz to promote environmental sustainability throughout the company," said Mark Frissora, the company's chairman and chief executive.
"As a global leader in car rentals, we recognize our unique opportunity and obligation to promote environmental practices and give our customers environmentally friendly options," he said.
Hertz said its hybrid vehicles will be available for rent at 50 of the company's US airport locations, with 100 of them reserved for its New York City fleet.
The stop-and-go flow of Manhattan traffic provides an ideal driving environment for the hybrids, allowing them to mainly operate off of their electric motors, the company said.
New York Mayor Michael Bloomberg said the greater availability of hybrid rental cars is in line with his city's goal to reduce its emissions by 30 percent by the year 2030.
"These hybrid cars really put Hertz in the driver's seat ... in meeting one of the greatest challenges of our time, which is global warming," Bloomberg told the gathering.
John Barrows, a spokesman for Avis, said this week his company will offer Prius hybrids in its California, Portland, Oregon, Seattle and Washington markets but may expand the locations in the future based on consumer demand.
Barrows said Avis also believes that the Prius will not only appeal to travelers, but those interested in buying a hybrid.
"Obviously we have customers who want them," he said. "And there are other people out there who are interested in purchasing a hybrid but really want to check one out before buying one."
Chee said the rentals offer Toyota Motor Corp a chance to showcase the Prius, as well as give potential buyers a chance to decide if a hybrid is right for them.
"I do think it's a risky move for Toyota, because what they're saying is: `Here's the car, here's how it drives, we stand by our power train, and we think it'll win people over,'" Chee said.
"It shows Toyota's confidence that it will win over fans when they don't have to buy it," he said.
Enterprise Rent-A-Car also operates a fleet of more than 3,000 hybrid vehicles, in addition to 41,000 flex-fuel cars and light trucks that can run on ethanol-based fuel.
Comments will be moderated. Keep comments relevant to the article. Remarks containing abusive and obscene language, personal attacks of any kind or promotion will be removed and the user banned. Final decision will be at the discretion of the Taipei Times.