Personal data to be kept for shorter period, Google says
UNCLEAR Google said it was committed to following US law and EU data protection principles, but said there were many gray areas in dealing with privacy matters
Faced with criticism from privacy activists and questions from the EU, Google announced on Tuesday that it would cut back on how long it keeps the Web search histories of users to 18 months from 24 months.
Search information will now be made anonymous after a year-and-a-half, the company said in a letter addressed to a EU privacy watchdog group, the Article 29 Data Protection Working Party, and posted on the company's Web site.
The information, which is gathered every time Google's search engine is used, gives indications of the searcher's tastes and interests. Google shares general information on search trends, but says that it does not release this personal information outside the company.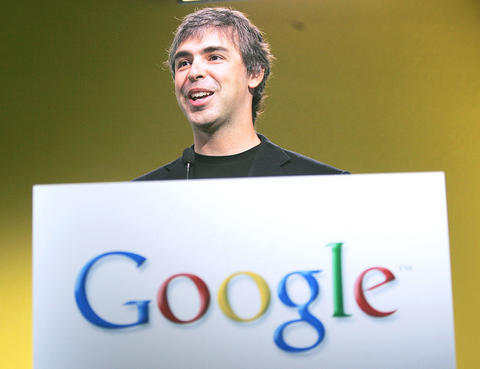 Google co-founder Larry Page smiles at a news conference at Google headquarters in Mountain View, California, on Tuesday.
PHOTO: AP
"We believe we can still address our legitimate interests in security, innovation and antifraud efforts with this shorter period," Peter Fleischer, Google's global privacy counsel, wrote in the letter.
He added that the company would "firmly reject" a retention period that was any shorter.
Fleischer said that the company faced a great lack of legal clarity, with some of its services potentially falling under EU data retention rules that require companies to keep some records of electronic communication for 24 months.
The move was part of a discussion that Google had begun with the group to clarify privacy questions.
Fleischer said that Google had been working to balance conflicting considerations in an area where the industry has taken little action.
"We looked at what other companies in the industry do, and we were not able to find explicit and clear privacy policies," he said.
Google is committed to following US law and EU data protection principles, Fleischer said in the letter. He added that there were many gray areas of how to deal with privacy matters.
Comments will be moderated. Keep comments relevant to the article. Remarks containing abusive and obscene language, personal attacks of any kind or promotion will be removed and the user banned. Final decision will be at the discretion of the Taipei Times.