Nissan `seriously' mulls US small car launch
Sensing an untapped market, Japanese automaker Nissan is "seriously" mulling the launch of a small car in the US priced under US$10,000, top executive Carlos Ghosn said on Wednesday.
Such a move could trigger a major price war in the world's largest car market, but it would also be a high-stakes gamble due to the US' love affair with hulking pickup trucks and sports utility vehicles (SUVs).
Ghosn, the president and chief executive of Nissan as well as French carmaker Renault, told an audience at the Council on Foreign Relations that US automakers had so far ignored the untapped potential for cars priced under US$10,000.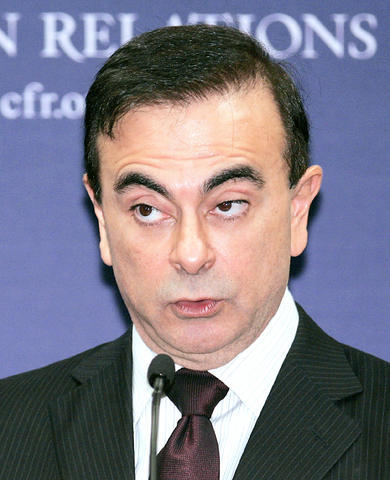 Nissan Motor Company president and chief executive Carlos Ghosn announces a new clean diesel version of Nissan's flagship passenger car, the Maxima, during a breakfast meeting hosted by the Council on Foreign Relations in Washington on Wednesday.
PHOTO: AP
"We are looking at it seriously," Ghosn said, adding that he would not be surprised to see an Indian or Chinese firm muscle into the US market with cheaply priced cars.
Ghosn spoke after visiting India last month where the firm is hunting new opportunities and amid plans by India's Tata Motors to launch a small car priced at US$2,500.
Nissan, which warned investors in February that net profits were expected to slide by over 11 percent in the year to last month, employs around 16,000 workers at its US plants which churn out a range of models.
Renault already sells cars that are priced under US$10,000 in Europe, but has no current footprint in the US.
Big US automakers also appear to be sensing a change in the wind.
General Motors, which is struggling to maintain sales domestically in the face of an onslaught from Japanese rivals Toyota and Honda, unveiled the Chevy Spark in India last month priced from around US$7,300.
Most cars and SUVs sold in the US, however, are priced well above US$10,000.
Ghosn also said that fears about climate change and technological advances were reforming the global car industry, and that Nissan and Renault were driving to build strong partnerships with Indian and Chinese manufacturers.
"Alliances work, but they are very difficult to manage," he cautioned, saying that international auto mergers can be very tricky to execute.
Ghosn said he favors building partnership ventures with foreign carmakers, rather than taking them over. He said in January that Renault-Nissan was interested in expanding its US operations by linking up with a partner in the US.
Nissan's top executive announced, meanwhile, that the firm plans to sell its first clean diesel cars in the US in three years to meet accelerating demand for environmentally friendly vehicles.
Ghosn said Nissan's Maxima would be its first car to be fueled by a clean diesel engine in the US amid plans to roll out similar models in Japan and China by the same deadline.
Comments will be moderated. Keep comments relevant to the article. Remarks containing abusive and obscene language, personal attacks of any kind or promotion will be removed and the user banned. Final decision will be at the discretion of the Taipei Times.