Entrepreneurs shine at the DEMO conference
SIX MINUTE SHOWS Many DEMO presenters used their six minutes on stage to show off slick video and audio tools. The business-focused exhibitors generally had less pep
Running a business does not have to involve so much work.
At least, that is the claim of several entrepreneurs at this week's influential DEMO emerging-technologies conference. These people are using Web technologies to give businesses simple tools for automating what otherwise would take armies of people and reams of paper.
Many DEMO presenters are using their six-minute windows on stage to show off slick video and audio tools for, say, augmenting MySpace pages. By contrast, the business-focused exhibitors generally have less sexy demonstrations, given over to such things as transferring contact information to mailing labels or tracking the work of software coders.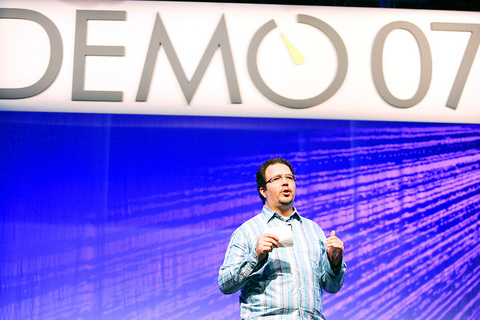 Honeypitch founder James Tucker demonstrates his company's business tools at DEMO 2007 in Palm Desert, California, on Wednesday.
PHOTO: AP
That is not to say the business-oriented presenters have no pep. Damon Schechter, for one, bounds with confidence that his Shipwire Inc now gives small businesses a degree of power they have never before enjoyed in the costly, complex process of shipping goods worldwide.
With a quick set of clicks on Shipwire's Web site, a small business can arrange to have inventory sent to Shipwire warehouses and on to customers. Shipwire handles the storage, the packing, the shipping and other logistical details from warehouses in Chicago and Los Angeles, with more scheduled to come online around the world.
Although this is everyday stuff for big companies, basement startups, craft makers and other homegrown vendors generally do not have inexpensive access to such services, Schechter contends.
Joining the Shipwire network starts at US$30 a month and is easy enough to operate online that Schechter showed pretty much the whole process in six minutes.
If Shipwire can turn the Web into a small business' supply-chain department, then Honeypitch can serve as its deal-brokering engine.
Honeypitch arose out of an internal application that a San Francisco design firm, Thunk Inc, built for its own proposals to clients, including far-flung customers the company could not meet in person. Eventually founder James Tucker decided that Honeypitch itself had developed into a product worth selling to other firms.
Through a centralized Web interface, co-workers can collaborate on a proposal -- they can upload videos, pictures or charts, for example -- and send the package off to potential customers for viewing online. Fine points of contracts can be negotiated and sealed in the same Web-based package.
Sure, it is something for the office, but Tucker notes that Honeypitch has multimedia-combo features found on many of today's most dynamic Web sites.
Comments will be moderated. Keep comments relevant to the article. Remarks containing abusive and obscene language, personal attacks of any kind or promotion will be removed and the user banned. Final decision will be at the discretion of the Taipei Times.