Hyundai hit by partial strike due to bonus dispute
Unionized workers at Hyundai Motor Co began a promised partial strike yesterday amid a dispute with management over bonuses, a union official said.
The walkout, which was approved last week by union rep-resentatives, began as scheduled yesterday afternoon, said Jung Jun-yung, head of the union's overseas cooperation department.
Unionized workers plan to lay down tools yesterday for a total of eight hours at three different factories.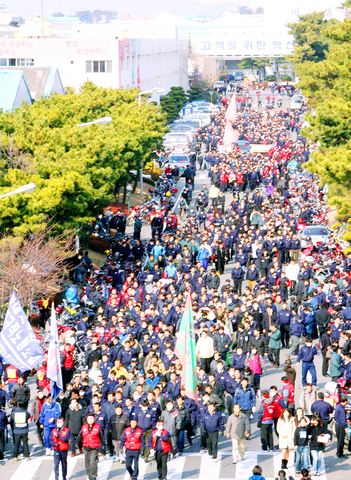 Striking Hyundai Motor workers march at the Hyundai Motor factory in Ulsan, southeast of Seoul, yesterday. Unionized workers at the South Korean company began a promised partial strike yesterday amid a dispute with management over bonuses, a union official said.
PHOTO: AP
Hyundai Motor confirmed the strike was under way, company spokesman Jake Jang said.
Hyundai asked the Ulsan District Court to issue an order barring the walkout, Jang said, but added that no decision had yet been reached.
Ulsan is an industrial city 415km southeast of Seoul where the world's sixth-largest automaker has its main factory.
Labor troubles are a near constant headache for Hyundai. The company's union has gone on strike every year but one since it was established in 1987.
Under the strike plan, workers will carry out normal shifts today, but expand the strike tomorrow to a total of 12 hours at each of the three factories. They will decide whether to take further action, if any, tomorrow.
A total of 400 representatives voted unanimously last Friday for the 44,000-strong member union to walk off the job.
Unionized workers have refused to work overtime since Dec. 28 after workers received a bonus equal to one month's salary, which they say is less than the agreed amount of a payment equal to 1.5 months.
The company said the latter total was based on an incentive to reach the company's production target last year, and since that was not achieved because of strikes the payment was reduced.
"There would never have been a strike if the labor-management agreement had been realized," the union said on its Web site.
A week ago, Hyundai sued the union, seeking damages to help cover production losses caused by the refusal to do overtime.
Last year was Hyundai's worst ever in terms of strikes. A total of four walkouts cost Hyundai 118,293 vehicles in lost production costing 1.64 trillion won (US$1.75 billion), the company said.
Hyundai was also dogged by turmoil following the April arrest and jailing of its chairman Chung Mong-koo on embezzlement and breach of trust charges related to a slush fund scandal.
Chung, 68, was released from detention in late June on bail and returned to work after spending time in a hospital.
Chung is currently on trial and is due to appear in court today.
Shares of the automaker rose 0.3 percent yesterday to close at 64,100 won.
Comments will be moderated. Keep comments relevant to the article. Remarks containing abusive and obscene language, personal attacks of any kind or promotion will be removed and the user banned. Final decision will be at the discretion of the Taipei Times.