Sony targets Vaio at corporate users
Sony Corp, the world's second-largest maker of consumer electronics, is targeting corporate customers to increase Vaio notebook-computer sales and its share of the global PC market.
The company plans to raise sales to business users to 30 percent of total Vaio shipments by March 2010, from less than 10 percent now, Yoshihisa Ishida, head of Sony's Vaio business, said at a news conference in Tokyo yesterday. Sales of the Vaio, introduced in 1996, helped drive an 8.3 percent gain in Sony's fiscal second-quarter sales.
Ishida's remark came as the Tokyo-based company said it will sell its Vaio "type G" notebooks for about ?245,000 (US$2100) on Dec. 2. The laptop comes with a 12.1-inch LCD screen and a DVD recordable drive and weighs 898g, the lightest in the world, the company said.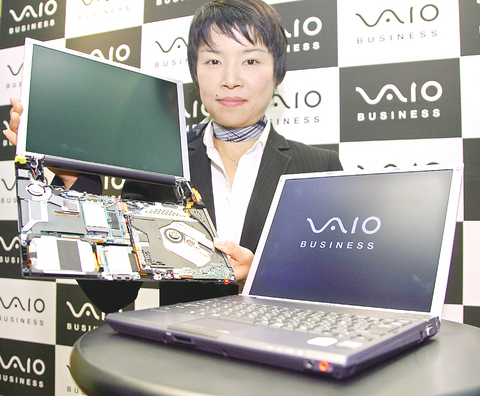 Japanese electronics giant Sony employee Miwa Asakura displays the world's lightest B5-sized notebook PC, the ``Vaio typeG,'' which weighs only 898g, at a Tokyo hotel yesterday.
PHOTO: AFP
Chief executive officer Howard Stringer said this week earnings at Sony's consumer electronics and movie divisions will help offset games losses. The company last month forecast its lowest annual profit in five years because of rising costs from its PlayStation business and a computer battery recall.
"Price competition in the computer industry is getting tough," said Koji Suzuki, a vice president of marketing at Sony. "We will try to halt further price declines by introducing computers for corporate users."
Shipments of notebook computers are expected to rise 26 percent this year, outpacing the 3.3 percent growth in desktop PCs, according to a September report from Gartner Inc. Laptop shipments will rise to 79.7 million units this year, the research firm said.
Sony forecasts a 14 percent increase to 4.2 million Vaio computer shipments worldwide this fiscal year ending March next year, including 1.1 million in Japan. The company shipped 3.7 million units last fiscal year, of which 3 million were notebooks and 700,000 were desktops. About 1 million of them were sold in Japan.
Toshiba Corp, the world's fifth-biggest PC maker, shipped 2.55 million computers worldwide in the third quarter, according to Gartner, with no figures given for Sony.
The Sony executives didn't comment on the battery recall. Sony last month said it will take a ?51.2 billion charge for the recall of 9.6 million batteries it made for PC makers including Dell Inc and Apple Computer Inc.
Net income for the year ending March 31 will probably drop 35 percent to ?80 billion, compared with an earlier estimate of ?130 billion, Sony said last month. Operating profit will decline 74 percent to ?50 billion, while the sales forecast was kept at ?8.23 trillion.
Comments will be moderated. Keep comments relevant to the article. Remarks containing abusive and obscene language, personal attacks of any kind or promotion will be removed and the user banned. Final decision will be at the discretion of the Taipei Times.