Apple reveals plans for digital home market
HOME MOVIES As well as a selection of new iPod products, Apple CEO Steve Jobs unveiled a set-top box designed to play downloaded movies on home TVs
Seeking to further push digital media into homes, Apple Computer Inc launched its long-awaited online movie service and showed off a device that will make it easier for consumers to watch the videos on television.
The iTunes Music Store, however, will initially carry movies only from the studios of Walt Disney Co, where Apple CEO Steve Jobs is a board member. By contrast, Amazon.com Inc's movie service launched last week with distribution deals with seven studios -- but not Disney.
Jobs said more than 75 films will be available on iTunes from Walt Disney Pictures, Pixar, Touchstone Pictures and Miramax. New releases will be priced at US$12.99, when pre-ordered and during the first week of sale, or US$14.99 afterward. Library titles will be sold for US$9.99 each.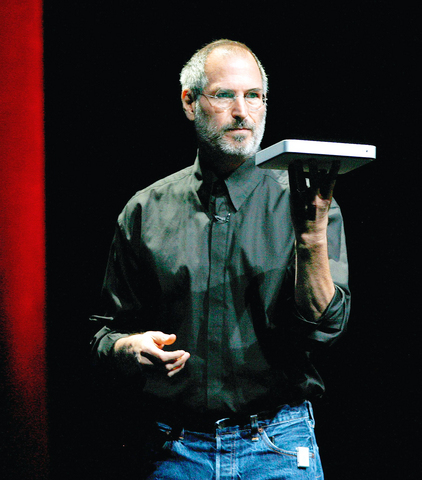 Apple Computer CEO Steve Jobs gives a sneak peek of a new device to be launched next year, code named, ``iTV'' during a media event at the Yerba Buena Center of the Arts Theatre in San Francisco, California, on Tuesday.
PHOTO: EPA
Other online movie services already exist but have not attracted many customers. Apple, however, is already being cast as a leading competitor with its entry.
Several sources at Hollywood studios said disagreements over pricing and other issues remain unresolved, but some analysts expect it will only be a matter of time before more distribution deals are inked.
Part of the reason is the credibility that Apple has gained already with its online music and TV show offerings: more than 45 million TV programs have been downloaded since they first became available on iTunes less than a year ago and more than 1.5 billion songs have been purchased from the online store.
Another reason is Apple's strategy of bringing digital content stored on a computer and playing it back on a television -- a challenge that has so far dogged online video providers and other companies looking to expand digital multimedia into the mainstream market.
As many expected, Apple is tackling that problem.
At a media event on Tuesday, Jobs also showed off a slim, compact set-top box, dubbed iTV, that will allow consumers to wirelessly send movies purchased online -- as well as other digital content stored on a computer -- to a television set. It will sell for US$299 and be available early next year.
With iTV, digital content stored on computers could more easily be played on TVs, Jobs said.
"We think it completes the picture here. Now I could download content from iTunes. I could enjoy it on my computer, my iPod and my big-screen television in the living room," he said.
The device, which looks like a much flatter but slightly wider version of the Mac mini computer, will work with Windows-based or Mac computers that use the iTunes software to manage multimedia files. Apple's senior vice president of worldwide marketing Phil Schiller said the product is designed to work best with flat-panel televisions formatted for widescreen viewing.
Similar media appliances that are designed to link a PC to a television already exist, but none have gained much traction, analysts say.
As a result, relatively few PCs these days are hooked up to television sets. And though others, such as cable providers and startups like Akimbo Systems Inc, have introduced set-top-boxes and services to deliver on-demand videos and TV shows through a broadband Internet connection, full-length feature films from major Hollywood studios either are not in their libraries, or are only available on a rental basis.
So-called media center computers, such as ones from Dell Inc or Hewlett-Packard Co, are designed to play and record TV shows. But many still look like they belong under a desk in an office instead of on an entertainment rack in the living room.
"With Apple's superior design of integrating its hardware and software, Apple will still be the one to watch," said Forrester Research analyst Josh Bernoff. "But I think you'll see this market develop in a more fragmented way than the way Apple came to dominate the music market."
Comments will be moderated. Keep comments relevant to the article. Remarks containing abusive and obscene language, personal attacks of any kind or promotion will be removed and the user banned. Final decision will be at the discretion of the Taipei Times.