World Business Quick Take
■ Games
Nintendo pushes portable
Nintendo Co, the world's biggest maker of handheld video-game players, is targeting sales of its DS portable to reach 10 million units in Japan by year-end, helped by new features such as a Web browser and digital TV tuner. The DS handheld, which allows users to play games by touching one of the gadget's two screens, has sold more than 6 million units in Japan since it was introduced in December 2004, Nintendo president Satoru Iwata at a news conference in Tokyo yesterday. The company on March 2 will begin Japan sales of a new model, the DS Lite. Nintendo is betting on the product to fend off Sony Corp's PlayStation Portable. Offerings including an Internet browser, slated for June, and interactive software for brainteasers and recipe programs will broaden the appeal of the video-game device, Iwata said. The DS Lite is 20 percent lighter than its predecessor and weighs less than Sony's player. It will retail for ¥6,800 (US$140). A new version of Nintendo's Super Mario game will also be introduced.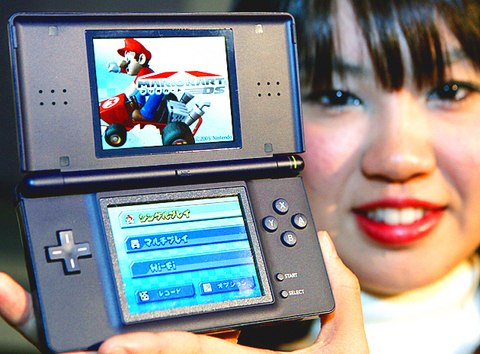 PHOTO: AP
■ Telecoms
France Telecom cuts jobs
France Telecom is to cut 17,000 jobs worldwide, including 16,000 in France, in a new drive to slash costs, boost earnings and adapt to the new world of Internet-based telephony and digital communication, it announced on Tuesday. The job cuts -- about 8 percent of a global staff of 206,000 -- follow Deutsche Telekom's decision to axe 32,000 posts. Executives said the job cuts would come through natural wastage over the next three years, with 22,000 due to leave and only 6,000 staff recruited, mainly in new product areas. A further 1,000 positions overseas, including in Britain, would go. It is the first time that France Telecom has failed to replace retiring employees.
■ Telecoms
Virgin Mobile offers live TV
Virgin Mobile became the first European cellular network to launch a live digital TV service on mobile phones, in a deal announced on Tuesday with BT Group PLC. The mobile operator will begin selling handsets equipped to receive the BT Movio digital TV and radio services later this year, both companies said. The launch was announced on the second day of the 3GSM World Congress in Spain, one of the world's largest mobile telecommunications trade shows. Virgin and London-based BT also unveiled a new handset designed to deliver the service, offering one-click access to the digital TV and radio tuner. "It's not downloaded, it's not looped," said Graeme Hutchinson, sales and marketing director at Virgin Mobile. "It's real TV just like you get at home."
■ Corporations
Buffett leaving Coke
Billionaire investor Warren Buffett will not stand for re-election to the Coca-Cola Co's board of directors, the company said on Tuesday. Buffett has been on the board since 1989. He told Coke he made his decision because of increased demands on his time resulting from acquisitions by his holding company, Berkshire Hathaway Inc. He said Berkshire Hathaway intends to retain its holdings of Coca-Cola stock, which amount to more than 200 million shares, or about 8.3 percent of the outstanding shares, as of last year.
Comments will be moderated. Keep comments relevant to the article. Remarks containing abusive and obscene language, personal attacks of any kind or promotion will be removed and the user banned. Final decision will be at the discretion of the Taipei Times.