DaimlerChrysler's CEO to leave by the end of the year
NEW BLOOD Investors responded positively to the announcement that CEO Juergen Schrempp would be replaced by the Chrysler Group's top executive
DaimlerChrysler announced yesterday that chief executive officer (CEO) Juergen Schrempp would leave the company by the end of the year and turn over the reins to Dieter Zetsche, now head of the US-based Chrysler Group.
Zetsche will be replaced as Chrysler head by current No. 2 Thomas LaSorda at the start of next year. The news came as the company reported improved second-quarter earnings and a slight rise in sales.
The company also said that Eric Ridenour would take over for LaSorda.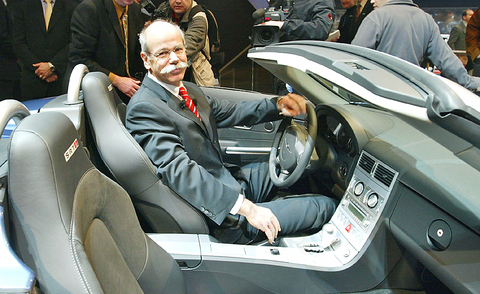 Chief executive of the Chrysler group, German Dieter Zetsche, presents the Chrysler Crossfire Coupe at the 74th Geneva International Motor Show in this March 2, 2004 file photo taken in Geneva, Switzerland.
PHOTO: AP
Schrempp was the architect of the 1998 merger of Germany's Daimler-Benz and US Chrysler Corp, an attempt to create a global auto giant. The merged company has struggled, first with heavy losses at the Chrysler division and now with weak earnings at its former cash cow, Mercedes.
Schrempp has been criticized by some investors because the company's stock price has lagged since the merger. Comments he made about the deal in a newspaper interview also led to billionaire investor Kirk Kerkorian suing the company over the terms of the deal, a suit Kerkorian lost earlier this year.
Investors' frustration with Schrempp was indicated by the nearly 10 percent rise in the company's shares to 39.81 euros (US$47.73) in Frankfurt trading after the announcement.
Zetsche has earned plaudits for his turnaround of Chrysler, which has bounced back on the strength of hot-selling new models such as the 300C.
Schrempp has been with DaimlerChrysler for 44 years, and held a variety of management positions, including the leadership of Daimler-Benz operations in South Africa, the US and in Germany, as well as 17 years as chairman of Daimler-Benz Aerospace and DaimlerChrysler.
He began his career as an apprentice mechanic with Daimler-Benz in 1961 and joined the company's headquarters in Stuttgart in 1967.
Also yesterday, DaimlerChrysler said its second-quarter earnings came to 737 million euros (US$884 million), or 73 euro cents (US$0.88) a share, compared with 577 million euros, or 57 euro cents a share, a year earlier. Its operating profit fell 20 percent to 1.67 billion euros from 2.09 billion euros.
Sales during the quarter were up slightly to 38.4 billion euros (US$46.04 billion) from 37.07 billion euros.
The earnings were helped by a strong performance from the truck and bus unit, which offset narrower profits in its luxury Mercedes Car Group unit.
The Mercedes unit posted a scant operating profit of 12 million euros (US$14.39 million) for the quarter, a 98 percent drop from 703 million euros in the same quarter last year. Revenue was 12.4 billion euros (US$14.87 billion), down 4 percent from 12.97 billion euros last year.
The company said the unit sold 308,100 cars, a 4 percent drop from last year that it blamed on few sales by compact car business Smart. Last year, the unit sold 319,400 cars. In April, DaimlerChrysler announced a 1.2 billion euro (US$1.44 billion) restructuring of Smart that led to nearly 600 job cuts.
The company's Chrysler Group, however, showed a 4 percent gain with operating profit rising to 544 million euros (US$652.26 million) from 521 million euros a year ago. Sales were down 1 percent to 13.03 billion euros (US$15.62 billion) from 13.2 billion euros.
The number of Chrysler cars sold rose 4 percent to 812,200 from 781,400.
Sales by the company's commercial vehicles unit, which includes Portland, Oregon-based Freightliner LLC, helped push up that unit's operating profit 12 percent to 524 million euros (US$628.28 million) on sales of 10.6 billion euros (US$12.71 billion), compared with 468 million euros on sales of 8.96 billion euros during the same quarter last year.
Comments will be moderated. Keep comments relevant to the article. Remarks containing abusive and obscene language, personal attacks of any kind or promotion will be removed and the user banned. Final decision will be at the discretion of the Taipei Times.