Toyota to examine Prius complaints
Toyota is investigating complaints about its hit hybrid Prius cars stalling in the US, company officials said yesterday.
A few owners of Prius models from last year and this year are saying their cars stalled, Toyota Motor Sales USA Inc, the Japanese automaker's US sales arm, said in a statement, without elaborating.
Hybrid vehicles deliver good mileage by switching between a gasoline engine and an electric motor. Toyota Motor Corp leads in hybrid sales, with cumulative global sales of 381,500.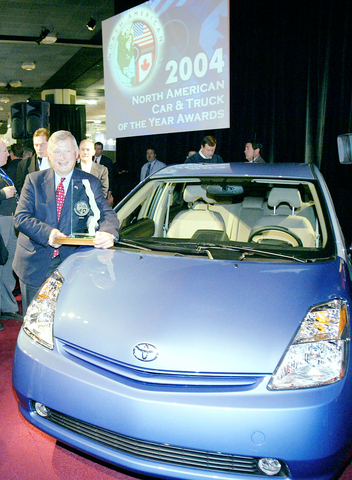 Don Esmond of Toyota holds an award for North American Car of the Year for the Prius in Detroit, Michigan in this photo from January last year. Toyota said it is investigating complaints of stalling in this and last year's Prius models.
PHOTO: AFP
Toyota, which learned of the stalling problem last Friday, is looking into issues including the number of complaints, technical issues and causes, the statement said.
More than 88,000 2004 and 2005 Prius cars have been sold in the US, Toyota said. There has been no recall, and the US National Highway Traffic Safety Administration has not opened an official investigation, the company said.
The reports of problems with the Prius are an embarrassment for Toyota at a time when the hybrid has become a status symbol favored by Hollywood movie stars and is a major success for Toyota, the world's No. 2 automaker.
Toyota planned a news conference yesterday at its Kentucky auto plant, amid reports that the company plans to begin building a gasoline-electric hybrid version of the Camry here.
Citing unnamed company executives, the Wall Street Journal reported on Monday that Toyota planned to shift production of its hybrids to North America, but planned only to discuss the Camry model yesterday.
In Tokyo, Toyota spokesman Paul Nolasco said yesterday that shifting hybrid production entirely to North America is not "anywhere in the cards."
Georgetown plant spokesman Rick Hesterberg declined to comment on the reports. The Georgetown plant now assembles the Camry, Avalon and Solara models.
Besides the Camry hybrid, the company also is considering the possibility of producing the Prius hybrid or a hybrid version of the small Corolla sedan in North America, the newspaper reported.
Comments will be moderated. Keep comments relevant to the article. Remarks containing abusive and obscene language, personal attacks of any kind or promotion will be removed and the user banned. Final decision will be at the discretion of the Taipei Times.