Gaming firms tackling allegations
SWEATSHOPS? Criticism that video-game firms offer employees fringe benefits while skimping on tangible benefits prompted on firm to start paying overtime
It was a lunch-hour scene not uncommon on Silicon Valley corporate campuses. A video game programmer curled a dumbbell and checked out his biceps in the mirror. Nearby, two colleagues walked on treadmills, chatting, while another young man leveled karate kicks at a boxing bag.
Those employees of Electronic Arts, the world's largest independent video game maker, were spending their break one day last week in a big, modern company gymnasium that would put many private health clubs to shame. But lately critics at the company, and at other employers in the Valley, say such perks put a cozy face on what amounts to a white-collar sweatshop.
Electronic Arts, based in Redwood City, California, has become the focal point of a raging debate over whether technology companies are exploiting workers by demanding long hours and using on-campus fringe benefits while skimping on tangible benefits like overtime pay, and rewarding worker loyalty by sending jobs to cheaper labor overseas.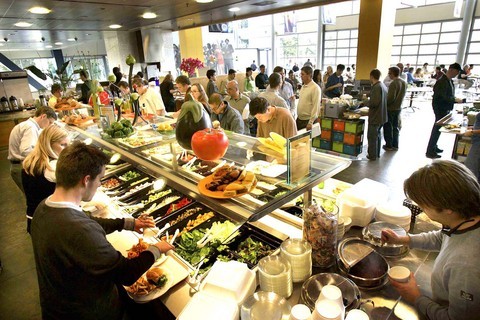 Electronic Arts employees choose their lunch in their company's gourmet cafeteria on Feb. 28, one of the perks of their employment which also include a complete on-site fitness gym, gaming rooms with pool and ping-pong tables, arcade games and video-game rooms with large-screen monitors.
PHOTO: THE NEW YORK TIMES
The debate has called into question the long-standing Silicon Valley compensation formula in which long hours were soothed with stock options and bonuses.
But with no technology boom to fuel stock prices, and new accounting rules making options much more expensive to grant, stock options are no longer the currency that has fueled the traditional Silicon Valley work ethic.
Electronic Arts, responding to this financial shift and to its labor critics, plans to announce this week that it will depart from tradition by beginning to pay overtime to some workers. Those workers would no longer be eligible for options or bonuses.
The move, while not unprecedented in the Valley's recent lean years, is certain to be watched closely by executives at other technology companies.
Electronic Arts concedes that the move breaks with tradition. But it says it is acting more in response to employee pressure than because the company considers it the best way to handle labor relations.
"This tears at the employment model that Silicon Valley was built on," said Rusty Rueff, the head of human resources for Electronic Arts, which has 5,800 workers.
Adopting overtime pay moves game developers "out of a culture that emphasizes entrepreneurialism and ownership and into a clock-watching mentality," he said.
Electronic Arts, like other Silicon Valley companies, uses revenue per employee as one measure of efficiency. The company said it had US$1 million in sales for each of 3,500 development studio employees last year.
The clash between Electronic Arts and its employees was prompted by an online essay late last year by the wife of one of the company's game programmers.
She accused the company of driving its workers to the point of collapse. The lament, widely circulated and discussed, has ignited an industry debate over whether there is a need to rethink the rights of high-technology labor.
In the past, unions have gotten little, if any, traction trying to organize at technology companies. And few experts see much chance even now of old-style trade unions catching on in the new economy.
But there is little question that a new labor base has been galvanized by critics who say that as Silicon Valley has come to be dominated by big public companies that respond mainly to Wall Street's quarterly scoreboard, the corporate gyms and other campus perks may be relics of a partnership with workers that no longer exists.
Several hundred workers and managers from the video game industry met at an all-day seminar in San Francisco on Tuesday to discuss quality-of-life issues. The gathering, a rare public acknowledgment of the depth of the worker unrest, was part of an industry conference this week for game developers.
The tone was far from rabble-rousing. The focal point was crunching -- not referring to gym exercises, but to the intense period, usually lasting months, just before the release of a new game. During that time, the animators, artists, designers, engineers and all the others involved in producing a video game are rushing to meet the unforgiving deadline for getting the product to market on the schedule that has been promised to distributors, retailers and shareholders.
With few exceptions, industry executives and employees agree, crunching is part of a video game's life cycle -- often a very painful part. Workers say they put in 60, 70, even 80 hours a week, with no days off, throwing themselves body and mind into the long march and in many cases fueled by caffeine or even stronger stimulants.
"It's soul crushing," said a senior executive at a small public video game company who has spent 10 years in the business.
Speaking on condition of anonymity, he said he had watched developers become increasingly disillusioned.
"This is much more of a mass-market industry," he said.
Comments will be moderated. Keep comments relevant to the article. Remarks containing abusive and obscene language, personal attacks of any kind or promotion will be removed and the user banned. Final decision will be at the discretion of the Taipei Times.