Tokyo revises Q2 GDP downward
Japan revised its economic growth numbers for the April-June quarter downward yesterday, but analysts shrugged off the report and said recovery was on solid footing for the world's second largest economy. \nThe Cabinet Office said Japan's GDP -- or the value of goods and services produced in a nation -- edged up just 0.3 percent in the three months ended June 30 from the previous quarter, weaker than the 0.4 percent growth rate it gave last month. \nThat translates to an annualized growth rate of 1.3 percent, down from 1.7 percent in the preliminary report. \n"The overall numbers aren't good, but the real economy isn't as bad as it looks," said Shuji Shirota, economist at Dresdner Kleinwort Wasserstein in Tokyo. \nBut yesterday's report disappointed the market, which had widely expected an upward revision following two quarters of strong expansion. Hopes have been growing that the latest upturn may be here to stay. \nJapan has struggled through more than a decade of slowdown, but now the economy has grown for five straight quarters, largely driven by booming exports to the US and the rest of Asia, as well as a gradual lift in consumer spending at home. \nThe surprisingly negative news about the economy sent the Japanese yen and Tokyo share prices falling in morning trading. \nThe benchmark index for Tokyo shares, the Nikkei Stock Average, dipped 0.99 percent at the end of the morning session. The dollar was quoted at ?109.98 midday, up ?0.38 from late Thursday in Tokyo and above the ?109.77 it bought in New York later that day. \nTokyo said the downward revision came from two negative factors -- private inventories and public spending. \nBut Shirota and other analysts said the economy was unlikely to head into another slowdown because the other numbers are holding up, including capital investment in the private sector and consumer spending. \nRichard Jerram, chief Japan economist at Macquarie Securities, even suggested there was no need to take notice of the numbers, dismissing them as "badly underestimating the state of the economy." \n"In terms of connection with reality, it just goes from bad to worse," Jerram told Dow Jones Newswires. \nHe said he expected government data to show strong growth for the July-September quarter to compensate for poor April-June figures. \nChief Cabinet Secretary Hiro-yuki Hosoda played down the revision, saying that inventory adjustments are progressing faster than expected. \n"I think it's nothing to be surprised about," he told reporters.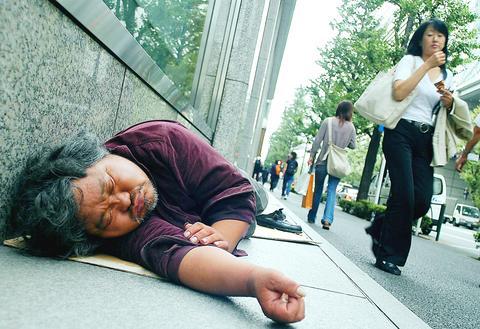 A Japanese woman walks past a destitute man sleeping in central Tokyo on Thursday. The number of unemployed people between the ages of 15 and 34 not trying to find work or receive education soared by 40,000 to 520,000 last year, according to a Japanese government report released yesterday. The Health, Labor and Welfare Ministry warned that this poses a ``worrisome problem'' in terms of both the maintenance of social order and the state of the Japanese economy.
PHOTO: EPA
Comments will be moderated. Keep comments relevant to the article. Remarks containing abusive and obscene language, personal attacks of any kind or promotion will be removed and the user banned. Final decision will be at the discretion of the Taipei Times.