Guangzhou's new airport opens
CHEK LAP KOK RIVAL Baiyun International Airport is expected to steal a big part of the cargo trade that now goes to Hong Kong -- and passengers as well
The largest airport in China opened in Guangzhou yesterday, establishing a giant freight and passenger hub in the country's manufacturing heartland to rival Hong Kong. \nBaiyun International Airport in the capital of Guangdong Province -- an area dubbed the factory of the world which is responsible for over a third of China's exports -- can handle 25 million passengers and 1 million tonnes of cargo a year. \nWhen an expected third runway comes online in 2010, those figures will rise to 80 million passengers and 2.5 million tonnes of cargo. \nThe 19 billion yuan (US$2.4 billion), 15km2 airport is poised to become a major player in the regional aviation market, most notably at the expense of neighboring Hong Kong International Airport. \nWhile the territory's 1998-opened Chek Lap Kok airport handles more freight than any other in the world, observers believe Baiyun's state-of-the art facilities in the center of China's manufacturing engine would rob it of vital trade. \nThe chief executive of the Hong Kong Airport Authority, David Pang, admitted as much recently when he said: "The two airports are overlapping in markets and both will engage in competition for passengers and cargo transport." \nBooming Guangdong Province has been waiting for years to replace its existing airport, watching while rival such as Beijing and Shanghai received major upgrades. \nThe new airport is China's largest, capable during peak hours of handling 9,300 passengers and 67 take-offs and landings per hour. \nBut given its vast potential, it is no surprise the new airport is causing headaches for industry officials in Hong Kong, which is little more than 100km away. \nSome 80 percent of all freight handled at Chek Lap Kok comes from Guangdong, accounting for more than a quarter of the city's external trade value. \nSunny Ho, executive director of Hong Kong Shippers' Council, said Hong Kong would face enormous challenges should the huge US logistics companies, like United Parcel Service and FedEx, choose Guangzhou as their Asian hub. \n"UPS and FedEx have their own marketing teams, distribution setup systems and their own crew. So it would be very easy for them to leave Hong Kong for Guangzhou if they wanted to," Ho said. "Could Hong Kong be their only choice? It would be impossible." \nIn addition, with a new bilateral aviation agreement between the US and China signed last week, US companies will be able to establish operations in China for the first time. The deal will double the number of airlines flying between the two countries, allowing a nearly five-fold increase in passenger and cargo flights in the next six years. \nFedEx has made no secret of its intentions to expand into China and will be adding new flights to new destinations from the current 11 a week. The company signed a deal last December to explore growth opportunities in Guangdong, which generates a third of China's exports. \nRival UPS, which has seen double-digit Chinese growth in the past three years, has plans to expand its Guangzhou services and aims to set up its regional hub there. \n"China is not an option. It's a must," said Leung Kwok-kee, UPS' general manager for Hong Kong and Macau. \n"Look at its economic growth. The GDP growth in southern China is 12 to 13 percent and its export/import growth rate is at nearly 20 percent. Hong Kong alone is not capable of supporting its growth," he said."There is a need to be there [Guangzhou]." \nChek Lap Kok, which handles 35 million passengers and 3 million tonnes of cargo per year, still has the advantage as China's aviation infrastructure modernizes. Nontheless it has been forced to respond, offering reductions on landing fees for airlines flying to new cities.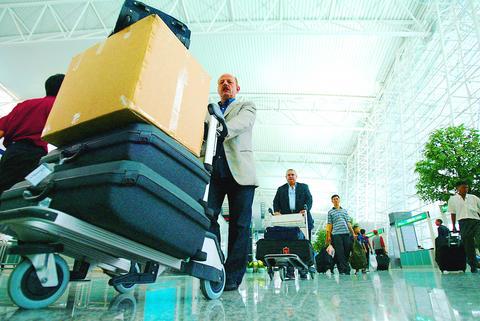 Passengers use the new Baiyun International Airport in Guangzhou yesterday. The US$2.4 billion airport officially opened for business yesterday morning. It is capable of handling 25 million passengers and 1 million tons of cargo annually -- and it has aviation officials in Hong Kong worried about competition.
PHOTO: REUTERS
Comments will be moderated. Keep comments relevant to the article. Remarks containing abusive and obscene language, personal attacks of any kind or promotion will be removed and the user banned. Final decision will be at the discretion of the Taipei Times.